Fed up of sweaty/chalky hands messing up your shots?
In this buyer's guide, we'll review 8 of the best billiard gloves available in 2021. We'll also outline some key things to consider when buying, helping you to find a comfortable glove that suits your style of play.t
In a rush? Use our handy comparison table to quickly compare our top picks:
Contents
Best Billiard Gloves
Here are the 8 best billiard gloves for sale in 2021.
Kamui is renown for their high quality billiard chalk and their cue tips, but their pool gloves are also very good.
The QuickDry Kamui billiard glove is designed primarily to reduce sweating in humid pool halls.
To achieve this, the fabric is made to soak up perspiration, while the fingerless design allows for greater airflow.
As a result, your hand is able to remain cool and dry throughout an entire match. In addition, the anti-slip pads on the palm allow for excellent grip on practically any table.
Another benefit of the material Kamui has used in producing this glove is its flexibility. The fabric will conform to the shape of your hand, meaning that the glove remains comfortable even after long play sessions.
To ensure that you get a perfect fit, this Kamui billiard glove comes in small, large and XL sizes. Each size is suitable for both men and women.
Because the Japanese company has used high quality premium-grade materials in producing this glove, it's quite expensive.
Another downside to the QuickDry is the fact that it's only available for right-handed shooters.
However, this glove quite durable, especially when compared to the Molinari V2. If you're looking for something super comfy that'll last a long time, the Kamui QuickDry is a great option.
If you're looking for a high quality option, it's hard to go past Molinari. Their V2 model has basically everything you'd want in a pool glove.
The upper material is nice and smooth, allowing you to improve your shot consistency.
Since the fabric offers the exact same performance every time you shoot, you won't have to think about what your glove's going to do when you strike the cue ball.
Ultimately this is what you want – a glove that isn't going to distract you during an important game.
Molinari has also designed the palm surface to have extra tackiness, ensuring your bridge hand won't slip when playing powerful shots.
The fingerless design further enhances your grip on the felt, while also allowing for more air to circulate throughout the glove. As a result, the V2 does an excellent job reducing perspiration levels.
Plus, this glove is made for right-handed and left-handed players, and the sizing is simple – one size fits all. It also comes in a massive range of different colors.
The only downside to this glove is that it isn't incredibly durable. Considering the price, you might expect it to last longer. However, if you can afford it, the Molinari V2 is definitely worth trying due to the comfort and consistency it offers.
Now we'll look at a few cheaper pool glove options.
The Anser M050912 glove is made with lycra, which is what they use in wetsuits – it's made for surfers.
As a result, this glove is great at keeping your hand cool and dry, but it's also incredibly durable. Unlike some other more expensive billiard gloves, the M050912's material is quite thick, so it won't fray easily.
Plus, the stitching is quite well done, so the glove is unlikely to fall apart for a few months at least.
Just note that the first fingertip is still in place on this billiard glove – it's not entirely fingerless. You can cut it off if you like – the fabric shouldn't fray.
Another benefit of the lycra is it's super flexible, and as a result these gloves are very comfortable.
The price is also excellent, and the glove can be used by both left hand and right hand players. Multiple sizes are available to ensure you get a good fit, as the lycra isn't incredibly stretchy (although it is flexible).
The only thing we can fault this glove for is the lack of anti-stick pads on the palm.
This is essentially a cheap (but very effective) nylon/spandex option.
The material is nice and stretchy, but not too elasticated.
Meaning, it fits really nicely. There's a little bit of elastic in the wrist, helping to keep it in place and prevent it shifting as you play.
Another benefit of this option is how nice the material feels. You'd think that this was a much more expensive glove – it looks and feels like a higher-priced option.
Plus, this stuff is reasonably durable.
However, the issue with this billiard glove is it can be a tiny bit slippery, especially on older felt that's more worn down. This does have a benefit though – the cue moves incredibly fast when shooting.
Also note: this isn't a fingerless option – this is part of the reason it's hard to maintain your traction as you plant your hand.
This isn't really a glove… but it's definitely worth mentioning.
Instead of producing something that will cover your backhand, Unglove's glove is more of a mini finger protector. It's still a three-fingered design, but this glove only covers the middle part of the finger down to your knuckles.
If you find that you get sweaty hands with most pool gloves, the Fingerwrap could be just what you need. The material is almost the exact same as what regular gloves use, so it offers a nice smooth stroke every single time.
Because it's so small, it won't soak up sweat and won't require washing very often, unlike some bigger gloves.
At this point, you might be thinking that this glove is only suitable for players who use a closed bridge (where your finger wraps around the cue) all the time.
However, the Fingerwrap also works for open bridge shots too (for most players at least – if you've got a really big bridge hand, you might not have enough material to quite cover the required area on your fingers).
This glove is also fairly durable considering the price.
You can get it in black, or other styles like red, blue and green. One size fits most, and the Fingerwrap can be used by both left and right-hand shooters.
Why buy a padded pool glove? When compared to thinner options, these thicker billiard gloves tend to be more durable. You won't rub holes in the material playing your shots.
Some pool players just like the feel of having a bit more material between their fingers and their stick.
Others prefer to have a thinner glove, as it can give you a better feel for the movement of your cue stick.
Although these billiard gloves are padded, they're not super thick. Due to the fingerless design and breathable material, the BGD is comfortable to wear and doesn't get too hot when playing.
This glove's palm won't slip when playing your shots, and the price is fairly reasonable.
Its simplicity is matched in the design: each glove is only a single color, and there are three different options available.
In relation to sizing, you can buy either small, medium or large. However, this billiard glove can only be worn on the left hand.
The final two gloves we'll look at are cheaper options designed for more casual players.
Cuesoul sells this glove in packs of ten. They're sort of disposable – you'd probably expect to get a month or two of regular use out of each glove before beginning to use a new one.
This is because they're pretty thin, and the seams can come apart fairly easily. However, the price of each ten-pack makes up for the lack of durability.
Rather than using adjustable Velcro on the wrist (as most of the other gloves on this list do), Cuesoul uses elastic, which doesn't offer the same snugness as an adjustable strap.
Despite this, the material used is very flexible, so the glove is fairly comfortable to wear.
It's also reasonably breathable, but it's not fingerless, so the ventilation is quite average.
Take some spares with you (to avoid having to play with a split seam) to ensure that the bridge contact area will offer a consistent, smooth surface for better stroke play and a more consistent game.
If you've got a bunch of pool players in the house, you're an occasional player, or you tend to split even the most expensive, high quality gloves, the Cuesoul 3 Finger could be exactly what you need.
However, if you're looking for the best possible build quality, there are better gloves on the market.
If you need a cheap glove but don't want to be chucking them out all the time, take a look at Gracefulvara's glove.
Like with Cuesoul's product, this glove has no Velcro strap, instead there's a ring of elastic around the wrist.
However, it still fits nice and snug – you won't find the fabric creasing when you play with an open bridge. As a result, this glove is fantastic for playing smooth strokes.
The spandex is fairly flexible, and the single available size will fit most people – the material is quite stretchy.
Although, if you've got really big hands, the glove might split easily.
Because this product is so inexpensive, the material is very thin, meaning it's not super durable. However, the spandex performs very consistently, resulting in easier long pots and position shots.
This glove won't last an incredibly long time compared to more expensive gloves – if you like the first one you buy, you'll probably want to get another three or four.
However, considering the price and the performance it offers, the Gracefulvara spandex glove is great value for money.
Billiard Glove Buyer's Guide
Now we'll detail some key things to consider to help you buy the best pool gloves for your specific needs.
What are billiard gloves?
Billiard gloves (sometimes called pool gloves) are garments designed to be worn on the bridge hand when playing cue sports. These gloves are unique in that the material used is designed to provide a sort of a runway for the cue when playing a shot.
Most billiard gloves only cover the thumb, first finger and middle finger, because this is where your stick will contact your hand. Sometimes the gloves are made fingerless for better grip on the table and better breathability.
As most pool players are right-handed and use their non-dominant hand as a bridge, a single billiard glove is worn on the left hand. Be sure to get a glove that will fit on your non-dominant hand.
Why use a pool glove?
There are two main reasons you'd use a billiard glove rather than playing bare-handed:
You get sweaty/clammy hands as you play in a hot and humid environment. If your hands are too moist, your cue stick may jolt or stick slightly as you play your shots, harming your accuracy. Most players will experience sweating inside their glove (unless you get the Fingerwrap glove) – the important thing is that this perspiration doesn't come into contact with the stick.
You're using a fiberglass pool cue. Sticks that aren't made of wood don't tend to slide easily on bare skin, so a pool glove is essential if you're to maintain your ability to make clean strokes.
What's the difference between cheap and expensive pool gloves?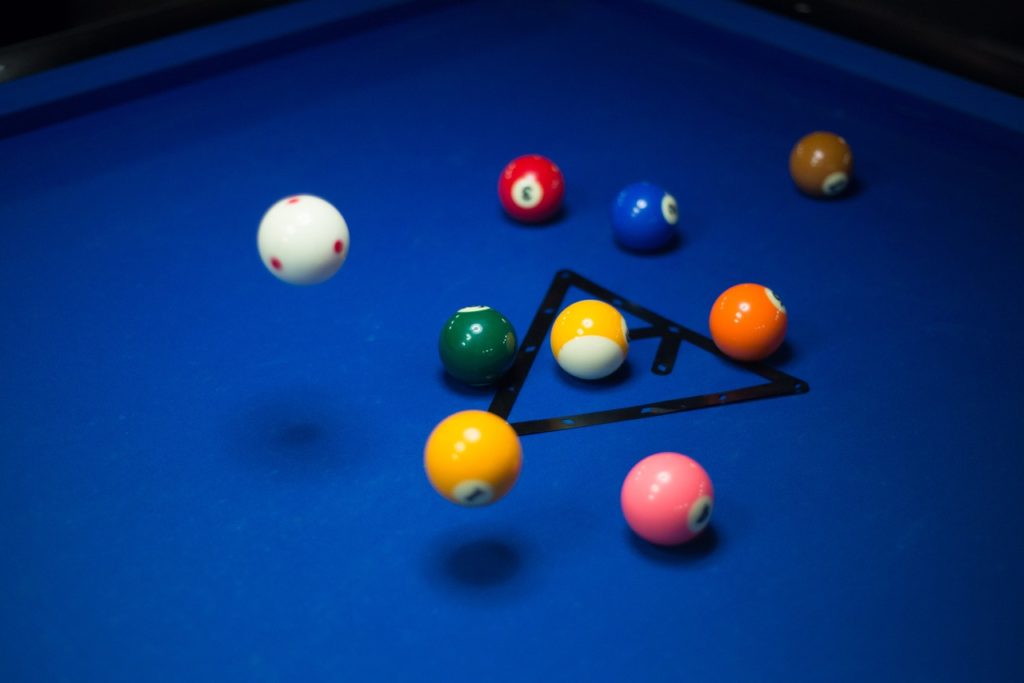 If you have a look online, you'll notice that billiard glove prices range from around $3 up to $30.
The simple, cheap options will work, for the most part. However, the material used is generally quite poor quality, meaning it won't deliver the smoothest possible strokes. It may also fray easily, particularly near the thumb area. Cheaper billiard gloves are often sold in bulk, as they're only supposed to last a few weeks or months before you begin using a new one.
On the other hand, the more expensive, high end options are often the best pool gloves on the market. Products like the Kamui QuickDry will offer a consistent bridge surface 100% of the time, improving your ability to play positional shots.
These gloves will also last a lot longer than the cheaper options.
Billiard glove sizing
Finding the right size pool glove is pretty simple. Generally the gloves are "one size fits all", including for men and women. However, some might be available in small, medium, large and extra large.
Don't be afraid to try a one size fits all glove instead of looking at gloves that come in different sizes. Normally the material will stretch and conform to the shape of your hand, making for a perfect fit. However, if you have particularly small or large hands, you should check our review (or the Amazon reviews) to see if it'll fit.
If the billiard glove you're looking at comes in a few different sizes, check the manufacturer's size chart. For most gloves, you'll need to measure around your hand below the fingers to find your size, as shown.
I'm a left-handed shooter – what should I get?
If you're a leftie, look out for an asymmetric billiard glove that's advertised as suitable to be worn on the left or right hand. You might also be able to find one that's designed specifically to be used on the right hand, but there aren't that many available unfortunately.
Thin vs thick pool gloves
Thin pool gloves have a more natural feel to them – they can act almost like a second skin. As a result, you'll have a better feel for the cue stick as you play your shots.
On the other hand, thicker pool gloves tend to be more durable, as the material won't split or wear down as easily. However, the feel might take a bit of getting used to.

Conclusion
This concludes our buyer's guide!
Hopefully you found the best pool gloves for your specific needs. Remember, if you're using a wooden cue stick, lowering your perspiration levels should be your top priority. Gloves without fingertips generally generate less sweat than pool gloves with full-length fingers. You don't necessarily need high end expensive gloves to get better grip and improve your game.
If you're still unsure what to get, leave a comment below and we'll get right back to you! 🙂
About the author