Finding a disc golf practice basket that will provide you with the most realistic experience off the course is the best course of action. Something that will help you become more mobile while also enhancing your putting and other shooting abilities.
In this article, we'll share with you 9 disc golf basket reviews. We have selected the best disc golf baskets for sale in 2022, including portable practice baskets and permanent disc golf baskets.
We'll also outline some key things to consider when buying, so that you can find the right basket to practice your putts.
No time to spare? Check out this handy table to quickly compare our top picks:
Best Disc Golf Baskets
Here are the 9 best disc golf baskets for sale in 2022.
This is one of the few PDGA approved baskets out there that's actually quite easy to move around.
When disassembled, this disc golf basket is about the size of a car tire, so you shouldn't have any problems taking it to events or the local park. You can even put it back together without any tools.
Even though the association classifies the MVP Black Hole Pro as a Basic level target, the chains are pretty heavy-duty – and this is a 24 chain disc golf basket. As a result, this is a fairly heavy option. However, the number of chain strands means you'll experience fewer blow-throughs and more consistent putts.
This means you can practice your short game with a portable disc golf basket that performs just like the ones at B and C-tier competitions.
What's more, because the entire basket is made of metal, this basket is incredibly durable. The chains are zinc-plated, meaning they're very weather resistant, and won't rust or corrode. Another benefit of having such a sturdy basket (with a large base) is the fact that it's highly unlikely to fall over or wobble in high winds.
Considering what you get, the price of this portable disc golf basket is fairly reasonable. If you're looking for something all-metal that performs just like the targets you'll be using at events, it's hard to go past the Black Hole Pro.
If you're going camping or love to play disc golf at the beach, a proper all-metal basket is probably going to be a bit too heavy to carry around with you.
Fortunately, Innova makes a portable version of their legendary DISCatcher target. The company has saved weight by going for a fabric basket and rim, and using fewer chains. As a result, the final weight of this disc golf target is only around 15lbs, and it's about the size of a folding camping chair when packed away.
You can fold it down and set it up in no time at all, and it even comes with a carry bag, which proves to be very useful on outdoor adventures.
But how does this portable disc golf basket actually perform? Since this isn't a 24 chain disc golf basket, you might experience a few more pole bounces than you would with a regular disc golf basket.
However, Innova really knows their stuff – this basket isn't regulation size, but it still catches putts really well. You could even use it for backyard practice if you wanted to.
Since the Innova DISCatcher Traveler is priced very reasonably, the only thing we can fault it for is its durability. Obviously, metal targets are going to withstand sun, wind and rain better than fabric/metal composite baskets can. You'll need to store this basket in your house, garage, shed or car when you're not using it.
For some disc golfers, the foldable disc golf baskets just don't cut it. They simply can't offer the same feel that metal targets have when putting.
If you're one of these people, Axiom Discs makes a light-duty steel disc golf basket that's very portable.
Despite having 24 chains and being PDGA approved, this portable practice basket is fairly lightweight and super easy to setup – you can have it ready in less than one minute once you get the hang of the assembly process.
What's more, this disc golf basket is built to be very sturdy, especially in light of how easy it is erect. It won't be affected by moderate weather and will last a long time if properly cared for.
Axiom Discs's portable disc golf basket is definitely worth considering. It's reasonably priced, and is also very durable.
To reduce the number of blow-throughs, Discraft has installed thick, high quality chains on this disc golf basket, of which you get 24. As a result, this target is definitely heavy-duty, despite the company calling it "Lite".
Discraft's portable disc golf basket achieves a good balance between performance and portability.
You can practice putts at home with a basket that works just like a PDGA-approved practice disc golf basket. However, you also have the option to take it apart, put it in your car, and have a round or two at the local park – no tools are required for assembly/disassembly.
Since the base is quite large and very sturdy, you won't have any issues with the basket wobbling in the breeze. The chains and pole withstand rusting nicely but can also handle snow and frost, so you can leave it outside during winter no matter where you live.
The best thing about this disc golf basket though is its price. Considering how well it performs for practice, it's excellent value for money. If you need a portable 24 chain disc golf basket to train your short game, it's hard to go past this portable disc golf basket.
For beginners and young families, it's probably not worth spending $100-$150 on a portable disc golf basket.
However, the foldable options on the market at the sub-$100 price point are often poor quality.
This Yaheetech disc golf basket is a possible solution to this problem. Since this basket is made of painted, rust-resistant metal, it's very durable. Plus, the base is nice and big, so it won't tip over when hit with strong throws at close range. Despite how sturdy it is, this is one of the cheapest metal disc golf targets on the market right now.
You only get 12 chain strands though, which means you'll get a few more blow-throughs than you would with a heavy-duty rig. On the plus side, this makes the basket super lightweight. When disassembled, the basket is very compact, meaning it's easy to pack in your car and take to the beach or park.
Overall, for casual disc golfers on a budget, this is a fantastic portable disc golf basket. If you decide to begin playing disc golf competitively however, you'll probably want to upgrade to something that'll do a better job at catching your putts.
Another foldable umbrella-style disc golf basket is the portable version of the DGA Mach Lite basket.
This is a similar option to the Innova DISCatcher Traveler we looked at earlier. Like the aforementioned product, the Mach Lite is very light (25lbs), and has a foldable basket. It also comes with a carry bag which has a shoulder strap, making it super easy to move around.
Setup and take down is also very easy, so you can get more practice in during each putting session.
However, the DGA Mach Lite is fairly expensive – it'll cost you more than some light-duty metal disc golf baskets. It's quite durable, but you wouldn't want to leave it outside overnight in harsh weather conditions – it's not extremely weather resistant.
Compared to the DISCatcher Traveler, the target area on the DGA Mach Lite is a little wider, which makes it easier to hit.
If you're looking for challenging putting practice, it might be a better idea to go for the Traveler. But if you want something that more closely matches the baskets you'll be using at events, the DGA Mach Lite is your best bet.
The only other thing we can fault this portable basket for (other than its price) is the legs: they can feel a little flimsy at times. However, they should be able to withstand strong winds without the basket falling over.
If you need something for putting practice, it can be worth getting a narrower disc golf basket.
This way, you'll get better at hitting the middle of the chains, rather than relying on the edges to snag the disc.
The Precision only comes with 12 chains, but if you're able to hit the thin strand profile, the disc will fall into the basket nearly every single time. It's also a fairly light target, meaning you could even take it to events to hone your short game in between rounds.
However, this isn't one of the more durable portable disc golf baskets on the market. MVP say that it may begin to degrade if left outside for extended periods. Even though the chains are zinc-coated, it's probably a good idea to bring this disc golf basket indoors during the winter.
Considering how well this basket works for training purposes, it's pretty reasonably priced.
After enough time putting with the Precision, you'll begin to notice your scores dropping by a few points each match. Putting is where the game is won or lost really, so it's definitely worth focusing on it in training.
There's two great things about having a permanent disc golf basket in the backyard for practice.
The first benefit is you can set it (in concrete) and forget it – no need to bring it in during the winter.
The second advantage is how well these in-ground disc golf targets perform. Because they're designed for use on proper disc golf courses, they're meant to be incredibly sturdy and have very few spit-outs.
GrowTheSport's offering is one such example. Its definitely one of the best permanent disc golf baskets available. Its chains, rim and pole are galvanized, meaning they can withstand numerous harsh winters before showing any signs of wear. Since you get 40 chains, this basket seldom rejects your disc.
In fact, it's PDGA approved at the Championship level, meaning it plays just like the baskets at A-tier and above events.
As you'd expect from a heavy-duty basket of this quality, the price is pretty high. However, you definitely get what you pay for.
You can tell this thing is tough just by looking at it – the entire target, including the pole, chains, base and basket are galvanized.
This protective layer of zinc is great in that it protects against rust and corrosion, ensuring your basket will last for years to come. It'll basically shrug off a snowstorm like a warm summer breeze.
The company has used what they call "sliding link" chains, which are designed to prevent pole bounces.
Since you get 18 chains in total, cut-throughs are pretty rare, meaning you can practice your putts without worrying about the basket spitting out good throws.
This disc golf basket actually comes with its own base, meaning you can use it as a portable option if you like.
Although it's fairly heavy, the Mach 2 is quite easy to assemble and disassemble with the right tools. To install it permanently, you'll need to buy a separate conversion kit from DGA directly.
All of the awesome features of this basket come with a fairly hefty price tag though – this is a relatively expensive disc golf basket.
However, if you're looking for something super tough for your backyard or course that'll last for years to come, the Mach 2 is worth the money.
Disc Golf Basket Buyer's Guide
In this section, we'll outline everything you need to know to find the best portable disc golf baskets and permanent baskets for your specific needs, whether you're looking for the best disc golf basket for backyard or a pro basket.
Different styles of disc golf basket
You'll need to choose a type of basket based on what you'll be using your basket for.
Foldable baskets have a fabric catchment area that can collapse, making them very portable. They tend to be quite light, and often come with a carry bag.
Narrow baskets have a thinner target area, which is great for practicing your putting. However, they take a bit of getting used to – you'll likely be using wider baskets at your local course.
Regular baskets are your run-of-the-mill option. They are much easier to hit than narrow baskets, but may be more expensive (depending on which type of you get). Regular baskets tend to spit out fewer discs, but can be much heavier than foldable disc golf baskets.
Portable disc golf baskets vs permanent disc golf baskets
If you're looking for something portable, you've got three options, ranked from least portable to most portable baskets:
Heavy-duty baskets (a type of regular basket). As long as you get something that has a stand, baskets with many chain strands are technically portable. However, they will be quite heavy – you'll probably need a decent amount of space in your car to move them. The upside though is that they better match the performance of the baskets you'll be using at events.
Light-duty baskets (a type of regular basket). Basically like a heavy-duty regular basket but with fewer chains, making it lighter. They're much easier to move and cost less than heavy-duty baskets.
Foldable baskets. Disc golf baskets made of a composite of metal and fabric are incredibly easy to move, but aren't usually very cheap. Foldable baskets will also fold down and fit in tight spaces in your car. However, they're less durable than regular all-metal baskets and tend to spit out more discs than their traditional counterparts.
While these portable disc golf baskets come with a stand (and sometimes a wheel), permanent options must be concreted into the ground. This can be a hassle, but it means you can set and forget your basket – meaning there's no need to haul it inside during winter. Plus, in-ground baskets are guaranteed not blow over on windy days.
Remember, 90%+ of baskets on the market these days are portable baskets. To get something that comes with a ground sleeve and is ready for concreting, you may have to go for a portable option and then buy the manufacturer's in-ground conversion kit.
Just be careful though that the basket you're going to use is tough enough to withstand winter weather or rust from sea salt in the air. Look out for galvanized or powder-coated baskets if you'll be keeping it outdoors.
How to install a permanent disc golf basket
You will need:
A post hole digger.
Tape.
Concrete.
A spade.
A tape measure.
A magnetic level.
Your disc golf basket (including a ground sleeve).
View on Amazon
First, dig a hole with ample space to pour concrete around your ground sleeve. The instructions that came with the basket should specify exactly how deep it needs to be.
Double-tape the bottom of your ground sleeve to prevent any concrete seeping in. Place it into the hole and carefully put the pole through the sleeve, avoiding piercing the tape at the end.
Pour the concrete into the hole and add water as per the instructions on the packaging. Mix it with your spade, and fill the hole to just below ground level.
Push your valve box (if you're using one) into the concrete. Ensure that it's offset from the pole, and allow enough room for the valve box cover to fit over the ground sleeve. However, don't make it too high – we don't want mowers hitting the cover.
Attach your magnetic spirit level to the pole to make sure it's perfectly straight, and adjust it if necessary. You can now remove the pole and place the cover on the valve box. Leave the concrete to set for as long as it needs (48 hours is a safe bet). After the time is up, you can install your pole if you're ready to begin playing.
Repeat as necessary for 9 or 18-hole courses. This is tiring work – be sure to take frequent breaks!
What are PDGA approved baskets?
The Professional Disc Golf Association (PDGA) has a process whereby manufacturers can submit samples of their basket to the organization to have them approved for specific uses. This PDF document outlines the technical details of what's required for a disc golf basket to be approved on page six.
There are essentially three different PDGA basket classifications:
Basic disc golf baskets are meant for practice or casual play – most portable disc golf baskets are really practice baskets. They're approved for use in leagues and X tier events.
Standard disc golf baskets are typically permanent options that are on the lighter-duty side. They're approved for events up through B tier, but not A tier competitions.
Championship disc golf baskets on the other hand can be used in any events, including professional tournaments. There are incredibly strict requirements to be approved for this classification. To qualify, disc golf baskets must be very sturdy and have heavy-duty chains.
For serious disc golfers, nothing beats Championship disc golf baskets. Since the PDGA rigorously tests the products it approves, it's definitely worth going for something they've looked at if you can afford it.
What to look for in a disc golf basket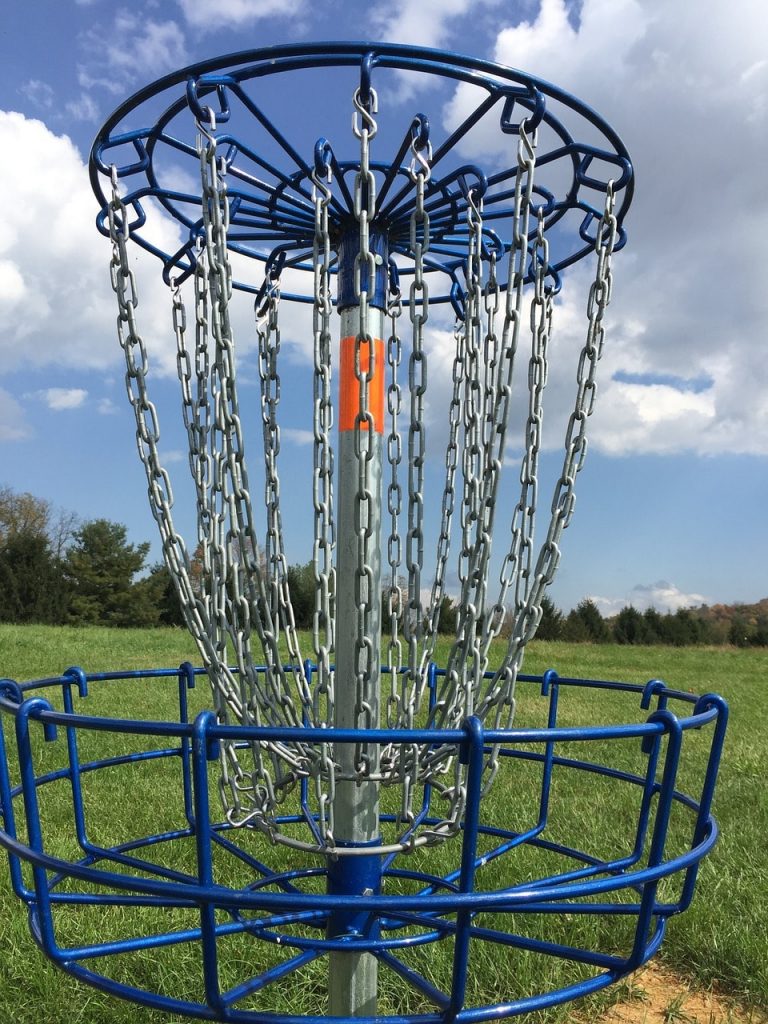 Here are some things to look for to help you spot high-quality disc golf baskets. Remember, if you're looking for an ultra-portable option (like a foldable basket), you might not be able to find something with all of these features. This isn't an issue – foldable baskets aren't expected to perform quite as well as more traditional options – this is why they're cheaper.
PDGA approval, as we just discussed.
If you can't find something you like that's PDGA approved, find a basket that's at least made to their build specifications.
Chains made of metal, rather than plastic. Metal chains are less likely to break and do a better job stopping discs. Sometimes they're coated in zinc which can further improve their durability.
If playing competitively, get an 18 or 24 chain disc golf basket. This helps to prevent discs bouncing off the pole or slipping through the target. For casual players, the number of chains isn't such an issue.
If you're looking for a portable option, go for something that's sturdy but also fairly light. To save weight, it tends to be a good idea to go for a basket with a lower chain count. These light-duty models often have nice wide bases which do a good job keeping them upright.
A galvanized, powder coated steel pole and chains. This helps to prevent the basket rusting or weathering in the sun.
Choosing a portable disc golf basket
Some of the advice above isn't really applicable if you're prioritizing portability. For example, having 24 chains and a galvanized steel pole will make your basket fairly heavy.
You have two choices when picking something that can be easily transported:
Foldable disc golf baskets, which are cheaper, lighter and smaller.
Light-duty metal disc golf baskets, which offer better overall performance, better durability and greater stability in windy conditions (they tend to have stronger bases).
For family games at the park and pre-event practice, foldable baskets are great as they can fit in your car very easily and are a breeze to carry around. However, metal disc golf baskets are better if you're looking for something for your yard, as they tend to be more sturdy.
Are expensive disc golf baskets worth the money?
There's two schools of thought here.
On the one hand, more expensive baskets tend to be less portable. For some disc golfers, this is a big deal – most of us don't have 9-hole courses in our backyard, so it's good to have something you can take to the park.
However, cheap disc golf baskets don't offer very good performance when compared to more expensive options. You'll experience more pole bounces and skimming, and the basket isn't likely to be as stable, because cheaper disc golf cages have a lower chain count.
Ultimately, for serious players, it's worth having a more expensive target.
If you do decide to take a practice basket too an event, it's certainly possible to disassemble and transport these heavier options if you've got a vehicle that's big enough to carry the parts individually.

Conclusion
Buying a disc golf basket can be a tricky decision to make – after all, there's so much choice! Just remember to consider how you'll be using your target. There's no point buying a Championship basket if you began playing disc golf a week ago.
If you're still unsure which is the best disc golf basket for you, feel free to ask us anything in the comments below and we'll get right back to you.