Indoor soccer is extremely difficult. In a limited location, things can also get rather physical as you constantly sprint up and down while chasing your man to attack and defend.
To give you the support and control you need to move the ball around the field in comfort and style, you need a good pair of indoor soccer shoes.
In this guide, we've reviewed the 9 best indoor soccer shoes on the market in 2022.
After that, we've outlined some key things to consider when buying indoor soccer shoes.
No time to spare? Here are our top three indoor soccer shoes.
Best Indoor Soccer Shoes
Let's begin our reviews!
We've tested 9 of the best soccer shoes for indoor pitches (including turf and hard courts) in 2022.
This shoe is a literal classic – the Samba has been around for decades, with Adidas improving on the shoe with each iteration.
It has a gum-rubber sole, which provides great traction on hard wood as well as carpet turf, perfect for indoor fields.
However, the best thing about the Samba is the kangaroo leather upper. Soft and comfortable, no matter whether your feet are wide or narrow, this material molds nicely to the foot and breaks in easily.
Plus, the kangaroo hide offers a fantastic touch – great for dribbling and close control.
Another good thing – you don't have to worry about the upper wearing out too quickly. A suede overlay helps prevent holes forming due to scuffs and abrasion. You can expect to wear these shoes for several seasons at the very least.
The Samba has a removable arch support insert, which can be taken out if you prefer a flatter shoe. If you want to customize the fit even further, it also has removable sockliners.
What's even better is that, despite their quality, these shoes are only a little more expensive than most other options.
This is a more reasonably-priced non-synthetic option.
The upper of the King Pro 21 It is made entirely of K-leather, unlike the Samba Classic.
However, unlike Adidas's shoe, the Invicto has 'KINGForm' technology. This allows for better feel for the ball and thus more control. It also makes them very lightweight, so they feel pretty nimble – perfect for indoor soccer. This lightweight feel is bolstered by a mesh tongue, enhancing breathability.
The rubber sole is also incredibly light. Plus, it's extremely grippy, so you can easily propel yourself forward, and turn on a dime.
A strong heel cup ensures good stability for defenders during tackles, and a solid grounding for attackers when shooting.
They are also a great choice if you have wide feet. However, you may need to go a size down to get the right fit.
Looking for something a little more modern?
These shoes feature an offset tongue, allowing for better shooting with the ideal portion of the foot.
What's more, this gives you a close fit, which will keep the shoes snug on your feet, meaning better comfort on the court or pitch.
Like the other Nike shoes we've reviewed a bit below, this pair has a grippy rubber sole.
However, since they're synthetic, the React Phantom Gt Pro can take a little longer to break in than most leather shoes. They're also slightly narrow, as is typical for Nike, and the synthetic material doesn't stretch too much.
A benefit of synthetic though is that Nike can be more creative with the upper – they've textured it to improve ball control. Embossed ridges help to improve grip, allowing for softer touches and more accurate shots and passes.
The price point is in the on the high side though, so if you'd like a more budget option, it might be best to look elsewhere.
The upper on this shoe is covered with a coating, which PUMA calls "GripControl Pro".
Essentially, this gives you a better touch on the ball, increasing the friction between your foot and the ball.
This means easier dribbling, and more precise shooting. For midfielders and attacking midfielders in particular, this shoe is a great choice – the coating works really well to improve ball control.
Thanks to the "FUZIONFIT" technology, a system of compression bands, there's next to no space between the shoe and your foot at any given point, meaning you can actually feel what the ball is doing.
The ankle and tongue are cut higher than most indoor shoes, but this doesn't affect the agility.
In fact, the height has done wonders for the shoe's stability – it provides top-notch support. At the same time, this shoe is actually quite nimble, because the mesh helps to save quite a lot of weight.
The React Legend 8 Pro IC is another solid leather option if you're looking for indoor soccer shoes that offer a great first touch.
Unlike the Adidas Samba, these shoes have an upper made of calf leather with mesh highlights. As a result, this indoor soccer shoe offers better breathability than the Samba, while maintaining a great control and feel for the ball.
Like many Nike shoes, these aren't great for players with wide feet. They're pretty narrow, so if you're on the wide side, you might want to consider a different shoe. They also run small, so you may want to order up a half size.
Like most leather options, the Legend 8 Pro breaks in easily. It also comes in four different colors, giving you more options than the Samba if you're looking for something to match your team jersey.
These shoes are essentially an upgraded version of the Adidas Samba.
The Kaiser has an awesome full-grain leather upper that is somehow even softer and more flexible than the upper on the Samba.
This softer leather means that these shoes break in more quickly than basically anything on the market. Like the Samba, they're an excellent choice if you have wide feet, since the upper is nice and supple. But they work for narrow/regular feet too – that's the beauty of the leather.
These shoes are slightly less durable than the Samba, but the comfort makes it worth it. The construction of the upper gives you an unbelievable touch on the ball.
As a result, with the Kaiser 5 Goal, you can almost forget you're wearing these shoes. Everything, from trapping the ball to dribbling, from passing to shooting, feels effortless.
Plus, you get the same super-grippy gum rubber outsole as on the Sambas, but it doesn't quite come as high up the shoe. Meaning, the grip is still fantastic, and the shoe looks even nicer.
These shoes do cost more, but if you want something even better than the Samba, the Mundial Goal is hands down the best choice.
If you don't want to shell out a lot of money, but still want brand-name shoes, check out Diadora's Capitano ID.
The cheapest option on our list, this shoe is actually surprisingly nice to wear.
It has a cushioned cotton/foam insole that makes it pretty comfortable to run in for hours on end, even on hardwood surfaces. Additionally, these shoes feature extra padding around the ankle and on the top of the foot.
As a result, the Capitano ID is great for players who tend to get kicked a lot. However, it doesn't offer the best first touch or feel for the ball, and could be more durable.
On the plus side though, these shoes are a good choice if you have wide feet. Another bonus is they usually run true to size, which makes it easy to order online.
This synthetic option from Nike combines a great touch with impressive breathability.
The textured 'NIKESKIN' upper gives you a precision feel for the ball. Once you control a pass, you can fire the ball exactly where you like. Plus, the high DynamicFit collar gives great stability while doing so.
In addition, the upper is Flyknit, so these shoes perfectly hug the shape of your foot, giving great fit and comfort. It's also nice and light, giving great breathability.
They are fairly expensive, however. This mainly comes from their status as an homage to Cristiano Ronaldo, so it is debatable whether they are truly worth the price.
Overall though, the shoes are well designed. They offer good stability, and the "herringbone" outsole pattern provides great grip.
Adidas have put a lot of work into their Predator line over the years, and it shows in these indoor shoes.
You get an innovative part-recycled upper with the Edge.3, which wraps around the shoe for a snug, comfortable fit. The upper also features Control Zone technology, providing excellent grip in the most important parts – and, like the rest of the shoe, this little extra tackiness is extremely long-lasting.
The shoe's tongueless design features a low sock top, which helps keeps your foot securely locked into the shoe. However, if you're used to normal low-top shoes, this design can take a little getting used to.
Another nice thing about this shoe is the heel. Adidas have put a lot of thought into the shape, and as a result, it offers great support when landing or performing sharp turns.
Indoor Soccer Shoe Buyer's Guide
What makes a good indoor shoe?
In a sentence: great grip, awesome agility, and a fantastic first touch.
Remember, indoor soccer is mostly a game of short passing and 1v1s – there's not much room to play through balls.
Here's what to think about when selecting the best indoor soccer shoes for your specific needs.
What brand should I buy?
Each brand has its own distinct way of making indoor soccer shoes.
Here are some of the best indoor soccer shoe brands, and what you can expect from each of them.
Adidas make some of the best quality indoor soccer shoes on the market – especially if you're after a leather upper. The Samba and Men's Kaiser 5 Goal are probably the best overall indoor shoes on the market right now, in terms of the feel for the ball that they offer, and their comfort when worn. They also make a few quite nice synthetic options. However, although Adidas shoes are also quite durable, they do cost a bit more than most other brands.
Nike shoes are known for their innovation. They love to do all sorts of things to try and make the best-possible shoe – whether it be using a textured upper, including a fancy outsole pattern, or employing a sock collar to improve stability. The downside to Nike's indoor shoes is that they're not normally the toughest options out there – however, there are exceptions to this rule.
Puma have been pioneering the mesh upper for a number of years now. Their Netfit shoes are so comfortable you can almost forget you're wearing them. On the whole, they make great all-around shoes, which normally sell at a pretty reasonable price. Puma don't normally use leather on their indoor shoes, though.
Diadora are renowned for making no-nonsense indoor soccer shoes. While they may not offer a first touch quite as good as you'd find on an Adidas shoe, Diadora's products are quite durable and surprisingly well-priced. They do have a few premium options, but this brand is mostly known for making shoes that work for players with wide feet, or those on a budget.
Materials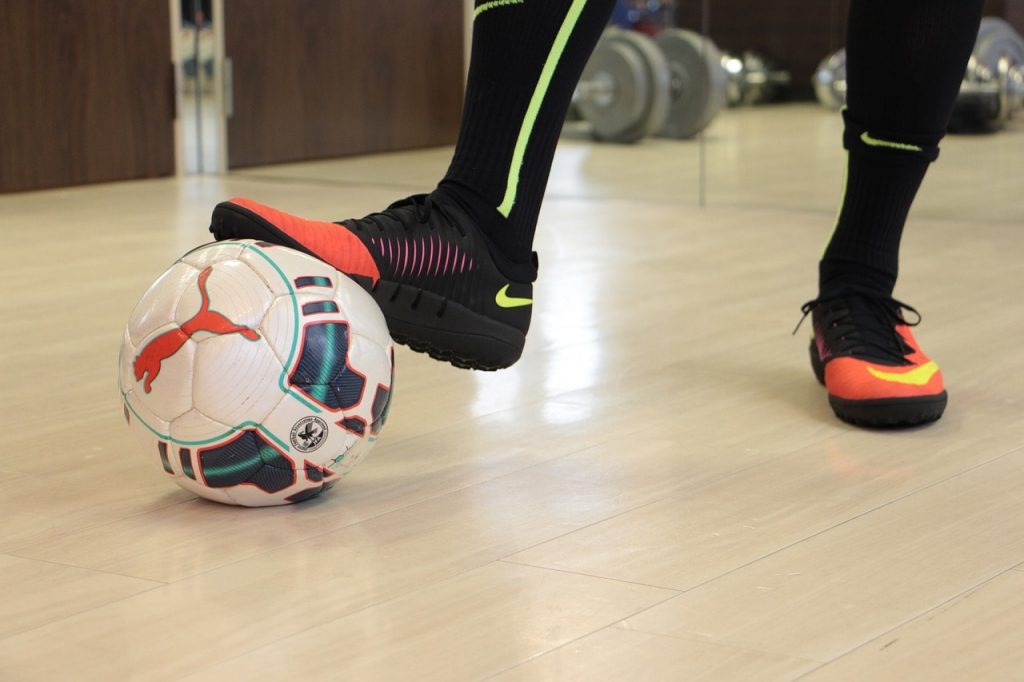 All indoor soccer shoes are made of materials designed to minimize weight and provide an excellent touch on the ball. However, there are some differences to look out for between different shoes.
Almost all indoor shoes have rubber outsoles to improve traction, and most have EVA (or some other type of foam) on the insole (also known as the footbed) for comfort. But this doesn't mean that every shoe has the same level of grip.
On the other hand, you'll have a variety of materials to choose from for the shoe's body (also known as the upper).
Finding comfort and control
Indoor soccer shoe uppers are normally made of either synthetic materials or kangaroo leather, each of which has its pros and cons.
Leather is the premium option. This material is nice and soft, meaning it molds to the shape of your foot. As a result, if you get the right size, you'll have less space between your foot and the shoe, and a fantastic first touch.
Such shoes also tend to be incredibly durable, and very comfortable, since the fit is so adaptable. However, they can be more expensive.
On the other hand, synthetic leather is considerably cheaper than real leather, but is less pliable and flexible. Like the actual stuff, synthetic leather is also incredibly durable, but it doesn't cost too much.
Plus, it often comes with ridges or patterns on the outside, for better grip when dribbling/shooting. So if you don't mind a bit of extra stiffness, this material is worth looking out for.
There are also other types of synthetic materials such as mesh. This option in particular is incredibly breathable and lightweight, making for a very comfortable shoe – if done right.
Mesh shoes are normally cheaper than real leather, and often come in a wider range of colors and patterns. However, they don't offer as much support or protection, because they make for quite a thin upper. On the plus side though, a thinner upper means better ball control.
Finding something that grips
All indoor soccer shoes have rubber outsoles, typically gum rubber.
The soles on good shoes are non-marking, so they don't leave scuff marks. But there's a balance to achieve here – the last thing you want is to slip over when making a quick turn.
So how do you find out if a shoe will grip well?
The first thing to consider is the surface you'll be playing on, which we'll discuss a little later.
Having an outsole made of a good material (gum rubber) is the most important thing. However, you also want to look at the markings. They should be intrusions (holes), not extrusions (spikes), otherwise you won't have enough of the sole in contact with the floor at any given moment.
It's also important that these markings are relatively shallow. If they're more than two or three millimeters deep, and there are too many of them, they'll just act like spikes, and you'll run into the same problem we just mentioned.
What features do I need?
Different indoor soccer shoes offer a variety of different features.
To figure out what you actually need, consider your style of play. Do you want better protection in tackles, something that's great for shooting, or the most agile shoe you can find?
Also think about your current pair of shoes if you have any – how would you improve them to make your life easier?
The first thing to think about is lacing. Do you want traditional, centered laces? Or offset laces to make more room on your instep? You may also want laceless shoes, because they can be easier to put on and take off. However, it's crucial to get the right size, since the fit cannot be adjusted.
You'll also want to consider how much arch or ankle support you need. Do you have especially high or low arches that need extra support?
Remember, to exceed at indoor soccer, you have to have fantastic ball control – you need to be able to trap the ball, dribble in tight spaces, and make precision passes.
Therefore, you might want shoes with a reasonably thin upper. This way, there's less space between your foot and the ball, meaning better feedback as you play, making it easier to control the ball.
While padding provides increased shock absorption and protection, it also adds weight, reducing your agility. Finding the right balance for your feet – and position – is important. Just like with outdoor cleats, you want your indoor shoes to be as lightweight as possible to keep you quick on your feet.
Finally, if you're fed up of having hot, sweaty feet when playing, consider going for a mesh-based shoe. These options tend to have better ventilation.
Field surface
Different field surfaces feel quite different to play on, so it's important to think about your pitch before buying new indoor soccer shoes.
There are three  main field types:
1. Court
Court surfaces, mostly used in futsal, are made of wood, concrete, or ceramics.
Since the surface is completely flat, and quite slick, the ball (and the game) move incredibly quickly. When playing on courts, you'll need the grippiest soccer shoe you can find in order to turn and get off the line quickly.
Look for something that emphasizes the quality of its gum rubber outsole. The manufacturer should put a lot of thought into the layout of the grip pattern in order to maximize traction.
Wearing cleats or turf shoes on these surfaces would be very dangerous, and quite ineffective, since there's nothing in the surface for treads to grab onto.
2. Carpet turf
Carpet turf surfaces are common in indoor soccer facilities.
These fields have a rough, carpet-like material, laid over an underlying hard surface like concrete. They have a little more traction than a court surface due to their texture, but the ball still moves very quickly across the field.
You still want to wear indoor soccer shoes on these surfaces. Since there is very minimal give, and the blades of "grass" aren't very long, there's a high risk of injury if you wear cleats or shoes without a flat sole. Some fields will actually ban turf shoes and require you to wear proper indoor soccer shoes.
Note: turf soccer shoes are similar to indoor soccer shoes, but have small rubber spikes/treads underneath as opposed to a mostly-flat outsole, for increased grip on artificial turf. Learn more about the difference between indoor and turf soccer shoes.
However, unlike if you're playing on a futsal-style court, you don't need an especially grippy rubber outsole to play well on carpet turf. Just as long as it's mostly flat and made of rubber, you'll be fine.
3. Turf
Turf is a type of artificial grass, commonly used on outdoor fields. Throughout the synthetic grass is a layer of small black rubber pellets, designed to provide more give to the field and absorb impact. Essentially, it's designed to mimic real grass and real dirt.
To tell the difference between carpet turf and outdoor (sometimes called 3G or 4G) turf, look out for these rubber pellets.
Since artificial turf is softer and deeper than carpet turf or hard court surfaces, you'll want to wear turf soccer shoes that have rubber spikes to give you more grip.
You can wear indoor shoes on turf, but you'll struggle to gain traction – and on wet days, it'll be nearly impossible to stay upright.
Conclusion
Hopefully you've found the right indoor soccer shoes for your needs!
Remember, the most important thing is how comfortable the shoe is.
If you're distracted by an improper fit, this is going to seriously affect how well you play. This is why leather is so popular – it can flex a bit more than most synthetics, meaning you're still fine if the fit isn't exactly right.
It's worth paying more for a leather indoor shoe in our opinion. The main reason synthetics are so popular in the soccer world is that they're much easier to clean if they get muddy. But when playing indoors, you don't have this problem.