Pool chalk is just chalk, right?
Not quite. In fact, buying the right chalk cube is a very important decision, as different types of chalk perform very differently.
In this article, we'll review 8 of the best pool chalk cubes available in 2021.
Contents
Quick Comparison Table
No time to spare? Here are our top picks:
Best Pool Chalk
Here are 8 of the best pool chalks on the market right now.
Kamui chalk is really like nothing else available: it's as good as it gets.
The Roku is their latest creation, having only launched about a year ago. It's a replacement of Kamui's famous 0.98 chalk, which they no longer produce.
Upon applying this chalk for the first time, the first thing that you notice is its consistency. It doesn't really feel like chalk at all. It's a much finer substance, almost like a powder.
But this is what makes the Roku so great. Although it's not a cheap option, this chalk stays on your tip for a really long. As a result, you don't need to chalk after every shot, and less of it gets on your table.
However, don't think that this means that you only get a thin coating on your tip. As you'd expect given what this chalk costs, the level of cue ball control it offers is second to none.
All in all, if you're looking for the best pool chalk out there, no matter the cost, the Roku is a fantastic pick.
Kamui's 1.21 chalk is quite similar to their Roku product that we just looked at. It's very fine, almost never miscues and offers excellent English (spin).
The difference between the 1.21 and the Roku is the 1.21 (which is an older product) is a bit coarser than the Roku. It more closely resembles normal chalk.
As a result, it's less sticky, so you'll need to chalk more often – probably two to three times per frame if you're clearing the table. However, this chalk is easier to clean off your hands and off the cue ball than the Roku, because it's not as sticky. You'll find that more chalk falls onto the felt though, so you'll need to brush it off more often.
Ultimately, since the price is about the same, there's two main reasons you'd buy the 1.21 instead of the Roku.
You're fed up of having chalk on your hands and your cue – you want it to be easy to clean off.
You're in the habit of chalking after every shot. 1.21 chlak is made for frequent re-chalkers, so it'll last you longer than the Roku if you reapply it all the time.
You have a cube-shaped chalk holder, or don't like the hexagonal shape of the Roku.
There's a few other premium brands who make a fantastic cube for a much lower price than Kamui chalk.
Balabushka's product isn't as fine as the Roku or the 1.21. It has an almost gritty feel, maximizing the friction generated between the cue ball and your tip. As a result, positional shots feel much easier.
The downside to having a coarser chalk is that it doesn't grip your cue tip as well as a finer product might. You'll need to apply it every two or three shots (depending on how rough your tip is) instead of two or three times per rack. Because the chalk isn't as sticky as the Kamui Roku or 1.21, you'll see more marks on the cue ball, but they're fairly easy to wipe off. With careful chalking you should be able to avoid leaving blue dust on your hands and cue stick.
Even though it's not incredibly sticky stuff, Balabushka chalk actually adheres to your tip pretty well considering the price. Because it's fairly cheap, comparing this chalk to the performance of the Kamui models is probably a bit unfair.
The only downside to Balabushka chalk is that it only comes in one color: traditional blue. If you need green, go for Kamui instead.
Another mid-budget option is Longoni's Blue Diamond pool chalk.
The main selling point of this chalk is its ability to retain its moisture. It won't dry out, even in winter, ensuring you'll enjoy consistent performance even if it takes you 6-8 months to go through a cube. Because there's a bit more moisture (compared to cheap pool hall chalk at least) this stuff will stick to your tip pretty well. You should be able to play at least two or three shots (depending on the tip you're using) before having to reapply the chalk.
Overall, this is a great all-round chalk. Although it can get on your hands and your cue, Blue Diamond is reasonably priced, and each cube will last a long time without drying up. Because it doesn't transfer to the cue ball that much, you're unlikely to miscue with Blue Diamond.
As the name suggests, this chalk only comes in blue. If you've got a green table and you're afraid of stains, have a look at the Kamui Roku or the cheaper Silver Cup billiard chalk.
If you're looking for chalk that only requires one or two applications per frame but don't want to shell out a heap of money on Kamui's products, Magic Chalk is the stuff for you.
Made in Russia, this chalk is designed to have almost magical adhesive properties. Some say it'll last you three or four games before you need to reapply it. There's definitely no need to apply this chalk every shot. We suspect that some of these people had such great results because they were shutout and only made a few shots! The point still stands though – there's enough people claiming that this chalk is amazing to warrant its reputation.
Although Russian Magic Chalk is expensive, these cubes will last for ages, so they're pretty good value for money. You can pick up a two-pack for a reasonable price, so if you don't like it you're not stuck with a heap of excess chalk.
So how's the actual performance? Magic Chalk offers great English considering the cost – miscues are extremely rare even when playing a heap of side. It can get on your hands and cue, but it's not an especially messy chalk.
Magic Chalk can also leave marks on the cueball, because it transfers a bit easier than Kamui. This is the only issue with this chalk really, apart from the lack of available colors other than blue.
Need an awesome all-around chalk? Look no further!
Rather than focusing on one specific area (like adhesion), Predator has chosen to make a chalk that has it all. Their product offers better spin, less miscues, and allows you to strike the ball more accurately. It also sticks to cue tips pretty well – generally it only needs reapplying every four or five shots, rather than adding chalk every shot.
The end result of all this is that you won't even have to think about your chalk when playing. Ultimately, this is what you want. In an important frame you need to focus on your next two or three shots, rather than how your chalk is performing.
With Predator, you don't even need to be concerned about marking your hands or cue. Despite having good tip adhesion, this chalk doesn't stain your body or equipment as much as most other pool chalks.
Predator chalk comes in sets of five octagonal pieces, rather than cubes. This might take a bit of getting used to but it's not a big deal. It's also pretty cheap – there isn't really a better value chalk on the market right now.
If you don't want fancy chalk or you don't want a fork over a heap of money, try Predator chalk and see what you think.
Now we'll review a few cheaper billiard chalk options. If you're a casual player or you're just looking for something to get the job done, cheap chalk your best bet.
Silver Cup is designed to be applied every shot. It won't last an entire game like Kamui or Magic Chalk might. Despite this, it won't cake up and drop off your tip, meaning you'll be able to avoid miscuing when playing spin. The chalk itself is relatively coarse, so you can generate good friction between the tip and the cue ball. However, because it's not incredibly sticky, it can get on the table and the pool balls pretty easily, although it's a fairly simple process to clean it off.
To avoid leaving your table looking messy, Silver Cup comes in a massive range of different colors, including:
Black
Blue
Green
Pewter
Pink
Plum
Red
Tan…
You get the point – pretty much every possible color preference is catered for. So if you're using an unusual felt color, this chalk won't leave a heap of visible marks.
Master's product is some of the cheapest pool chalks on the market at the moment. Despite this, it's probably the most popular billiard chalk in America.
This is because despite being cheap, Master chalk actually offers pretty good performance. It doesn't cake or flake and fall off your tip in large clumps – in fact it's quite sticky, but you'll still have to reapply it every shot or so. Because it doesn't adhere incredibly well you'll go through the chalk quite quickly (one to two months per cube if you play a lot), but considering the cost this isn't really a problem. Like most chalk brands, Master chalk is fairly coarse, so it offers excellent English and won't deflect when playing side spin.
You can take your pick from a heap of different colors, although the range isn't quite as good as what Silver Cup offers.
If you're looking for a simple, cheap chalk that just gets the job done, and you don't mind having to apply it every shot, this is probably the product for you. It's definitely better than the chalk they include with your felt or the stuff they have down at the pool hall, so grab some Master chalk if you find yourself miscuing often.
Pool Chalk Buyer's Guide
In this section we'll tell you everything you need to know about billiard chalk, and what you should consider when buying.
How Billiard Chalk Is Made
Cue tip chalk isn't actually chalk. It's made with a combination of crushed silica and a type of aluminium oxide. Dye is then mixed in to color the compound, and water may also be added to keep the pool chalks moist. Machines will then push the mixture through square holes to produce long, thin strips of pool cue chalk.
These strips are then sliced into cubes, before being put in an oven to dry. Another machine cuts out the circular gap which enables the player to apply chalk to the entire surface of their tip. Finally the pool chalks are labelled and packed into boxes, ready to ship.
How To Use Pool Chalk
Plenty of new pool players apply billiard chalk improperly.
The correct way to chalk a cue stick is to use a light brushing motion – don't force the chalk down on the cue.
Apply chalk evenly across the tip, leaving no bare areas to avoid miscuing.
Consider shaking off any excess chalk (not over the table) to avoid having it build up on the surface during play.
You should generally re-chalk before every shot, unless you're using a brand of chalk like Kamui that does not transfer onto the ball very easily. With these more expensive products you should still inspect your cue tip before every shot or two to see if there's any gaps that need covering.
Storing Your Pool Chalk
This is simple really. Just avoid warm, moist areas – keep your chalk indoors to avoid it caking when applied to the cue. If you've got a drinks/equipment table near your pool table, this is a great place to keep your chalks.
Different Pool Chalk Colors
Traditionally, pool table felt was green, but most modern tables use a blue surface. To avoid the pool cue chalk leaving visible marks on the table, it's normally dyed blue so that the chalk matches the color of the felt. Blue chalk also allows for pool players or referees to see marks on the cue ball so that they can be cleaned off easily.
However, these days there's heaps of different colors available: green, yellow, orange and red chalk is now pretty common.
We recommend sticking with the same color as your table's felt to avoid leaving visible marks on the surface. However, this decision is down to personal preference – if you really like the color red, there's nothing wrong with buying red chalk.
Why Use Expensive Billiard Chalk?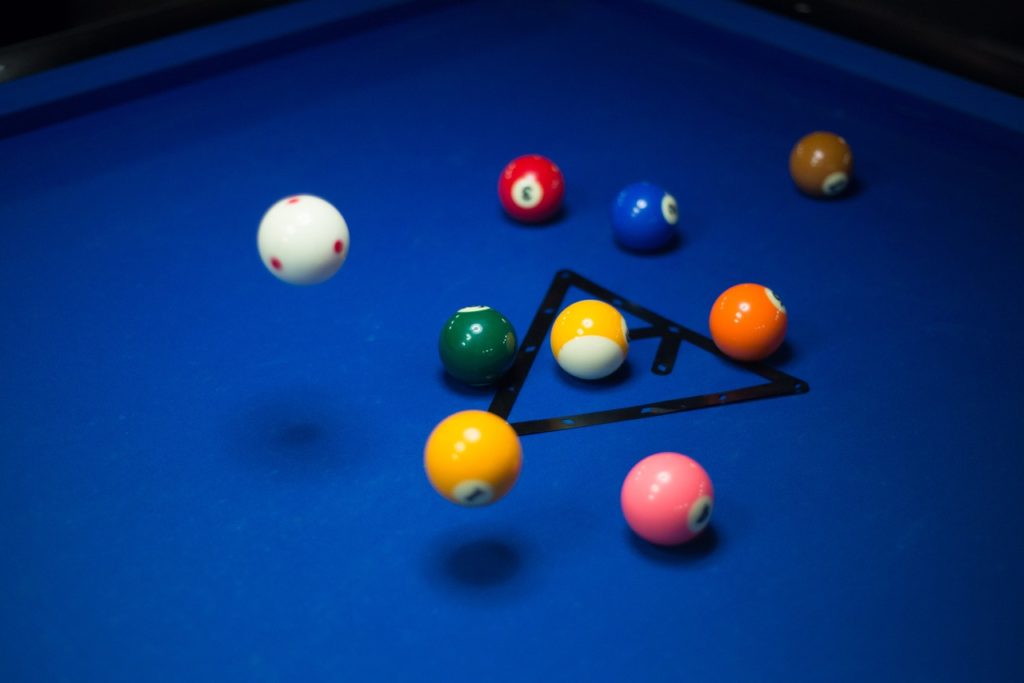 As we've discussed in our reviews, there's a number of quite expensive chalk options on the market at the moment.
So what do you get for your money that you don't get with cheap pool chalks?
It lasts longer – you don't have to apply it before every shot, so each cube lasts for a long time. Because it adheres to the tip so well, you get less chalk on your table.
Less caking – expensive chalk won't cake up on your tip, meaning less chance of a miscue.
Cleaner – finer chalk is less likely to get everywhere (on your hands and cue) as it sticks to your tip better. However, because it's stickier it can be a bit harder to wipe off.
Since chalk is generally pretty cheap stuff, at least in comparison to your cue or your table, you can try a few different types and see what you prefer. You can always donate bad chalk to the guys at the pool hall. 😛

Cleaning Pool Chalk Off Your Pool Balls/Table
No matter what chalk you use, you'll always end up leaving chalk marks on the table or on your pool balls.
To get chalk off the table, get a billiard table brush and sweep it towards the pockets.
To get it off the balls, use a billiard ball cleaner like Aramith on a microfiber cloth to wipe the balls clean.
Fine vs Coarse Pool Chalk
In general, the more expensive your chalk, the finer the chalk particles will be. These fine particles will stick to your tip better, but will also be harder to clean off your hands.
Traditional cheaper pool chalks tend to be coarser, with larger chalk particles. Although this chalk will come off your tip more easily, it can help to generate extra friction between the cue ball and your cue. This can allow you to put more spin on your shots due to the extra grip. However, if your cheap chalk is really poorly made, the large particles can clump up and fall off your tip, leading to miscues.

Conclusion
This is the end of our best chalk buyer's guide! We hope you found the right brand of chalk for your specific needs.
Just remember – no matter what chalk you use, if you use red pool cue chalk on a blue table, your opponent is going to try harder! 😛
About the author