Time for a new cue stick?
In this buyer's guide, we'll review 16 of the best pool cues available as of 2021 in terms of value for money.
After that, we'll also outline some key things to consider when buying a billiard stick.
Contents
Best Pool Cues
In this section, we'll look at the best pool cues in 2021.
If you're looking for something a bit cheaper, check out the best pool cues for the money.
1. Lucasi Custom Sneaky Pete Pool Cue 
On the surface, this Sneaky Pete cue looks pretty simple.
It has wood-to-wood joints, an antique-stained Birdseye maple shaft, and comes without a wrap.
The cue also plays like a classic: it feels as if you're using a single piece of wood, and you get that nice "plink" sound when striking the cue ball.
However, there's more to this cue than meets the eye. Lucasi has employed a quick-release Uni-Loc pin in the joint, and the pro tapered shaft is aged for up to 24 months in a moisture-controlled room to lower the amount of deflection you experience when shooting.
This treatment process also works to prevent splitting and warping – Lucasi is so confident in the durability of their cues that they offer a lifetime warranty.
This stick also comes fitted with a leather Tiger Everest tip, which is a fantastic all-rounder. It has the firmness necessary for powerful shots but isn't too hard – you can still play English and control the cue ball.
Plus, you can choose any weight you'd like out of the box, even in half-ounce increments like 18.5oz for example. Need to change the weight down the line? Simply add or remove the necessary Lucasi weight bolts from the butt of the stick.
Considering what you get with Lucasi's Sneaky Pete, it's actually very reasonably priced. Because the cue will last you so long (backed by the lifetime warranty), it's great value for money.
2. Predator Sport 2 Pool Cue
If you're looking for a premium playing cue but don't want a Sneaky Pete, Predator's Sport 2 could be just what you need.
Like the Lucasi Custom we just reviewed, this cue comes with a 12.75mm Tiger Everest tip and a North American maple shaft.
As a result, it feels nice and solid when playing medium-high pace shots, but also offers great control over the cue ball – you can place the white exactly where you want it.
Since the tip is made of leather, it's not too hard, but it's also firm enough to withstand powerful shots.
Plus, taking the cue apart and putting it back together is a quick and easy process due to the Uni-Loc pin in the joint.
What's unique about this cue though is the wrap. Predator has designed their own custom rubber grip, which they say has five different traction zones. If your shooting hand gets sweaty or you don't like to hold a glossy surface, this wrap is a great thing to have.
The shaft is straight and offers smooth strokes every time.
Plus, there's very little deflection when playing English, allowing you to focus on your next two or three shots rather than worrying too much about hitting the right spot on the cue ball.
However, the limited lifetime warranty offered with this cue doesn't cover warpage. Although the Sport 2 is unlikely to bend, you'd expect Predator's guarantee to still be valid if the shaft warps considering what you're paying for this cue stick.
3. McDermott G229 Pool Cue
McDermott's own-brand cues are some of the only sticks still made in the USA to this day.
This means that if you buy this cue, you'll not only be supporting American workers, but you'll also have a super-durable stick made with simply stunning craftsmanship.
The G229 is hand-crafted with North American Birdseye maple, which has been cherry stained and left wrap-free for a glossy, traditional look. However, the quality of McDermott's workmanship is most evident when you inspect the intricate detailing on the butt.
Exotic bocote and padauk wood has been used for the inlays – you'll notice these stunning green and red rings around the cue on the sleeve.
But how does this stick actually perform?
The G229 comes with McDermott's patented G-Core technology. There are carbon fiber reinforcements in the first seven inches of the shaft, which serve to stabilize the cue stick as it impacts the ball, resulting in less deflection and more consistent shots.
Even the ferrule is made with carbon fiber, allowing for better shock absorption and more accurate feedback for the player.
The pigskin Navigator Black tip is designed specifically to avoid hardening up too much after extended use, meaning you'll still be able to place your shots perfectly after many months of regular shooting with the cue.
As you'd expect from McDermott, you also get a lifetime warranty that includes protection against warpage.
This stick comes in any weight you want (but not in half ounce increments) and the bolts are fully adjustable. The G229 isn't exactly cheap, but it's very reasonably priced when compared to the two cues we've looked at so far.
4. Viking A281 Pool Cue
For most intermediate players, buying a hand-crafted, top of the line composite cue might not be worth it.
If you're looking for a mid-budget stick that still offers awesome performance, check out the Viking A281.
This cue is American made, which is surprising considering how much it costs. The Northwoods maple used in the shaft is aged for five years to toughen it up while also retaining that classic wooden thump you get when striking the cue ball.
You get a pro taper which is finished with three coatings of UV-resistant urethane, plus a threaded rubber bumper for added protection. Viking's limited lifetime warranty even covers warpage, which is great considering that this is a relatively inexpensive cue.
Another good thing about the A281 is that it comes with a quick-release joint and Irish linen wrap – features you'd expect to find on a more expensive stick.
It's also available in any half-ounce increment from 18oz up to 21oz, and comes with a 13mm Le Pro tip which offers great control and durability.
Ultimately, if you need something that performs well but won't break the bank, the A281 is a solid choice. It's one of the only mid-budget cues that's made in the USA and comes with an extensive lifetime warranty.
Best Break Cues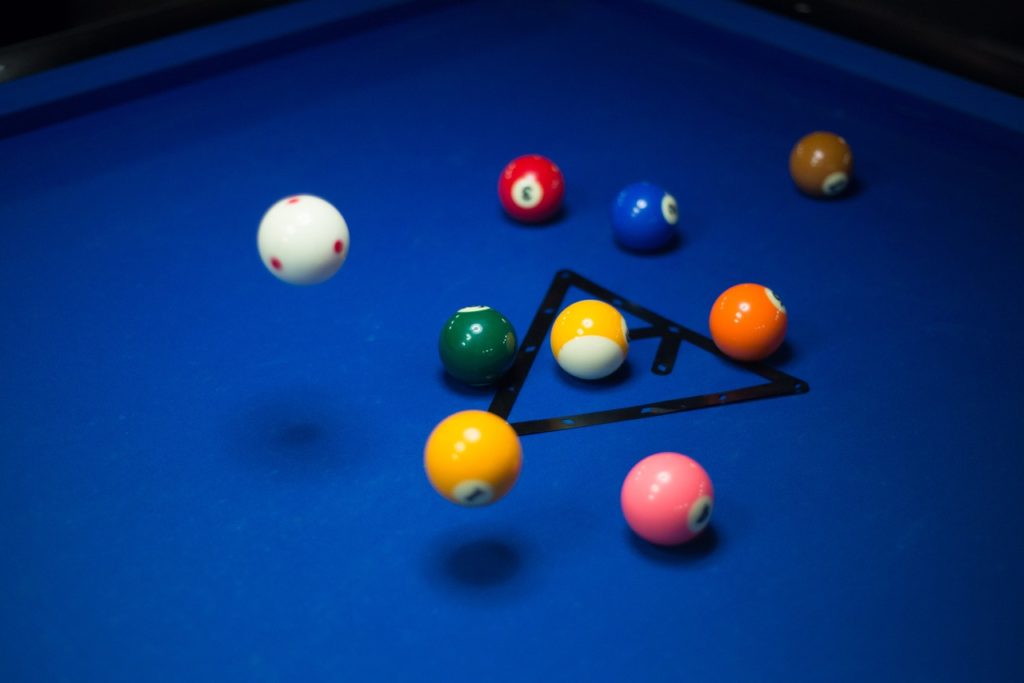 Now we'll look at some of the best break cues in 2021.
If you're looking for an all-in-one jump and break cue, click here to skip to the relevant section.

5. Cuetec WCT 58″ Break Cue
On your break stick, you'll obviously need a harder tip for better durability and increased power. This is why Cuetec has included a laminated Tiger pigskin tip on this cue, allowing you to make harder breaks without splitting your stick.
To further protect against damage to the cue, the WCT Break is made with premium grade Canadian maple, which has been specially treated to prevent warping.
The shaft has what Cuetec calls a "super slim taper", meaning that the force of your break is transferred directly through the cue ball.
As a result, less kinetic energy is wasted, meaning you can make powerful, accurate breaks with a lot less effort.
This breaker is shipped at 19oz, but you can adjust its weight with Cuetec's weight bolts if necessary.
The company offers a limited lifetime warranty on their cues, but you've got to register your stick on their website within 60 days of buying it for the guarantee to be valid.
Although this is a fairly costly breaker, there are far more expensive options out there that don't perform as well. Considering how well it breaks, the warranty Cuetec offers, and the fact that it's weight-adjustable, the WCT is definitely worth the money.
The only downside is that it's not designed for jump shots – Cuetec advertises it as a break cue only.
6. Predator BK3 Break Cue
This is possibly the best break cue on the market in terms of overall performance.
Predator have opted to fit this cue with a phenolic tip as standard. As a result, the BK3 offers excellent power right out of the case – you won't have to modify the cue to get it going.
However, you should check and make sure that you're allowed to use this type of tip if you're playing in local/regional tournaments.
Phenolic tips can also damage your cue ball if you play for extended periods at home, so be careful when using them. You might want to swap the tip out for something a bit softer further down the line if issues arise.
The BK3 is actually a composite cue, as carbon fiber is used to reinforce the maple shaft for greater durability. Since you'll only be breaking (rather than shooting English) with this stick, the synthetic material isn't an issue for those who prefer the feel of pure wood sticks.
Coming in at 19oz by default, this cue is on the light side. However, the weights are positioned specifically for more powerful breaks with less effort.
Most players actually prefer to have a lighter breaking cue, as it allows them to strike the ball with a faster, more accurate stroke. Sinking a ball on the break isn't down to just power – you've got to hit the right spot too.
Although this cue is quite expensive, you certainly get bang for your buck. For the best players, sinking a ball on the break is vital, so it pays to have the right tool for the job.
The BK3 even comes with a limited lifetime warranty against defects, so it's certain to last for a long time.
7. Cuetec Meteor 58″ Break Cue
Cuetec also makes a fantastic mid-budget break cue. Like the BK3, this is actually a composite stick.
But instead of using carbon fiber reinforcements, Cuetec has coated this cue in graphite and finished it off with a urethane varnish. As a result, it doesn't have that classic maple look, but there's still wood on the inside of this stick.
Apart from how it looks, how does this construction affect the cue? With graphite breakers like this one, you'll have to hit the cue ball dead on to play the perfect break – it can deflect a bit. However, once you get used to it, you'll love the consistency of this cue.
With the right technique, you'll get a solid break every time, increasing your ball in rate. Plus, composites don't tend to warp as easily as pure maple – it's especially important to have a super-straight breaker.
The Meteor weighs in at 19oz and comes with a hard, five-layer cowhide tip plus a bakelite (resin) ferrule.
As a result, it can generate serious power on the cue ball, allowing you to make better breaks.
Considering how well it performs, the price of this cue is very reasonable. If you like the color and don't mind getting used to the feeling of graphite, this could be just what you need.
8. Rage Heavy Hitter Sneaky Pete Break Cue
Looking to break racks, not the bank? Check out this pool cue.
For those that don't know, "Sneaky Pete" sticks are meant to look like house cues but actually come in two pieces.
Originally designed for hustling, they feel like a single piece of wood but have the portability that comes with the ability to unscrew the shaft.
This cue truly lives up to its name: the "Heavy Hitter" is 25oz and its weight can't be adjusted. If you normally play with an 18 or 19oz cue, this stick will feel extremely heavy.
However, this extra weight can help to improve your pocket rate, as long as you can still get the break technique right and your stroke is fast enough.
The best thing about this cue though is the price – it's pretty cheap for a break cue. Despite being relatively inexpensive, the Heavy Hitter comes with a hard leather tip, and the stained maple will hold up pretty well even if you absolutely smash the cue ball.
However, this cue stick doesn't come with a wrap – if it did, it wouldn't be a Sneaky Pete! You can add your own one if you like but gripping the maple is fine for most players.
Best Jump Cues
Time to look at 4 of the best pool cues for playing jump shots.
Most of these sticks are multipurpose cues designed for playing both breaks and jumps.

9. Lucasi Custom Break/Jump Cue
This is probably the best of the best when it comes to jump/break combo cues.
For serious players, Lucasi's cue offers the performance you need to take your game to the next level.
However, even if you're still learning the ins and outs of playing pool, it can still be worth getting a premium cue simply because they last so long – you won't need to upgrade for a long, long time. When compared to some of the other jump cues on the market, this stick isn't actually all that expensive.
So what's so special about this cue?
Custom engineered Uni-Loc pins in the two joints release quickly, but it still feels like you're using a single piece of wood.
Hard rock maple used for the shaft is dried for up to 24 months in a moisture-controlled room. The wood is then treated with a stabilizer to prevent moisture buildup and warping of the cue.
Double-pressed Irish linen wrap.
Lifetime guarantee, even against warpage.
Tiger Everest tip – an excellent all-rounder.
Plus, you can order whatever weight you'd like – even half-ounce increments are available. Feel like making it heavier or lighter once you've tried the cue? Simply add or remove some of Lucasi's weight bolts.
In terms of the actual performance, this cue plays like it looks. Simply put, it feels like a break cue should – a solid piece of maple that's capable of putting serious power on the cue ball.
At the same time, it has the agility and the hard tip required to make those tricky jump shots.
Since the shaft is made of premium-grade wood, it has very low deflection, meaning you can get the cue ball where you want it after making a jump shot. If you're in a tight spot, this cue could be your get out of jail free card.
For breaks, this accuracy is awesome – you should see an immediate lift in your ball-in rate if you're using a cheaper cue at the moment.
10. Aska JC01 Jump Cue
Unlike the other jump cues we've looked at, this stick is designed specifically for getting air: it's not a jump/break combo.
It's essentially a no-frills option for getting airborne, as it's the cheapest jump cue we've looked at. As a result, it comes with no wrap, and there's no bumper either.
You still get a quick-release joint though, and the Canadian maple makes for a fantastic shaft. You'll have no problem getting balls to jump with this cue.
Plus, it comes standard with an ultra-hard phenolic tip, and the weight feels great.
The only real issue with this cue is the durability of the shaft. It can split if you abuse the heck out of it.
However, this is to be expected at this price point.

11. Cuetec CT296 Break/Jump Cue
We've included a few Cuetec cues in this buyer's guide so far. There's good reason for this: their sticks are reasonably priced, perform well, and come with a limited lifetime warranty.
The CT296 is another awesome value Cuetec cue. Although it's not exactly cheap, you get a cue stick suitable for making both breaks and jump shots.
To achieve this, the company has used a hard Tiger Everest multi-layer tip to help you get airborne and a tough polycarbonate ferrule to protect the shaft when breaking.
The design of the shaft makes this stick especially good for jumping – because the cue is relatively light and the tip is nice and hard, you can achieve great elevation when playing down on the cue ball.
You can even select your desired weight and adjust it yourself later on (if necessary) to suit your preference.
As we've already mentioned, this cue comes with a limited lifetime warranty from Cuetec, but you've got to register your purchase on their site within 60 days of buying.
It's not likely you'll have to take advantage of this guarantee though, as the protection against damage extends beyond the tip and the ferrule.
The two joints are made with polished stainless steel for durability, and there's a Veltex wrap to protect the butt from moisture.
This grip also works to pull perspiration away from your hands, helping to prevent slippage when shooting important breaks.
12. McDermott 58″ Star S2 Break/Jump Cue
Now we'll look at a cheaper break and jump cue. Even though the Star S2 is relatively inexpensive, you still get a hand-crafted three piece cue from a well-respected brand – it's great value for money.
As well as a hard rock maple shaft and butt, you also get a state of the art carbon fiber ferrule for added durability.
This toughness is essential for players with super-hard breaks – without adequate protection, the shaft will split.
McDermott has also added a stainless steel collar and butt plate to prevent chipping and warping. As with all of their Star products, the company offers a limited lifetime warranty against any defect other than warpage.
Since you'll be taking the final third off this cue fairly regularly, it comes with a quick release jump joint, allowing you more time to focus on your next shot.
The Irish linen wrap is another feature that makes your life easier in-game – it offers good grip even in humid pool halls.
The only issue with this cue is the tip. It's quite hard, but isn't very grippy – you might want to rough up the tip or install a new one if you don't like how it feels.
Best Pool Cues For The Money
In this section we'll review 4 of the best pool cues under $100 for sale in 2021.
Looking for a jumper or a breaker instead? Click to jump to the relevant section.
13. Players C960 Crimson Maple Pool Cue
Considering what it costs, the craftsmanship on the Players C960 is quite sublime.
The wrap is crafted with genuine double-pressed Irish linen, and the taper is made with Grade A hard rock Canadian maple. Plus, the cue has a glossy finish to protect from chipping and scratching, and the ferrule is super durable.
Players are so confident that their cue won't warp, chip or crack that they offer a lifetime guarantee against such damage.
But what's it like to play with?
The C960 comes with a 13mm Le Pro leather tip, which is quite firm and won't wear down easily.
This, combined with the premium maple used in the shaft, results in an awesome feel when striking the cue ball. Even though this cue is fairly inexpensive, it still sounds like a premium stick when you hit the perfect power shot.
But because the tip is quite balanced (it isn't too hard, nor too soft), the C960 also works well for playing controlled strokes.
If you like the glossy crimson finish and slick Irish linen wrap, we'd definitely recommend this cue. Overall, it's a durable, stylish stick with performance to match – a great budget pick for all skill levels.
14. Viper Elemental 58″ Pool Cue
This cue stick is pretty similar to the Players C960 we just looked at. They're both two-piece cues with Canadian Maple shafts and a Le Pro leather tip. Neither cue has adjustable weight options, as you'd expect at this price range, but both are available off the shelf as 18. 19, 20 or 21oz sticks.
However, the Viper Elemental 58″ is a bit cheaper, because it doesn't come with a lifetime warranty. It has a synthetic leather wrap (rather than Irish linen) and lightweight quick-release joints, plus a removable scuffer.
You can unscrew the bumper to shape your tip, allowing for better chalk retention – meaning less mess on your table.
Despite the lack of a warranty, the varnished finish won't scratch easily and the maple will last a long time without warping.
Another benefit of this cue's shaft is it has relatively little deflection. As a result, this stick is great for playing accurate English and making long shots.
Considering the performance and durability of this cue, the Viper Elemental is great value for money.
If you're transitioning from a bar stick to your own cue, or you're just beginning to get into higher-level pool, this stick is an excellent choice.
15. Viking Valhalla Pool Cue
If your budget is a bit lower, you can still get a great cue for relatively little money.
Viking's Valhalla is another cue stick that's designed for durability. Super tough Canadian maple is used in the shaft, and the cue comes with a sturdy stainless steel threaded joint.
If you need to put the cue in its case, this joint comes apart quickly, but locks in nice and tight in-game so that you don't feel any slight wobbles or jolts when shooting.
To protect against chipping, Viking has used a glossy urethane finish on the shaft and a thick rubber bumper to protect the butt.
The company is so sure of the quality of their cue that they offer a lifetime warranty, which even covers warpage. This is quite a good thing to have, as it's quite hard to find an extensive warranty on a cheaper cue.
Plus, the Valhalla comes in seven different butt colors, including pink, white and black.
Also, the Irish linen wrap offers decent tackiness and feels great to hold.
Viking ships this cue with a durable 13mm leather tip installed. However, it's quite hard – this can make it a bit difficult to play controlled shots.
But if you're playing pool for fun and just want to avoid using house cues, the tip probably won't be a big deal for you.
16. McDermott Lucky L6 Cue Stick
Although McDermott is renowned for their super expensive pro cue sticks, they also make a few budget options under their child brands like Lucky.
This cue features a hard rock maple shaft and stock McDermott tip, which offer good control when shooting.
The glossy deep red finish and intricate detailing look amazing, while the Irish linen wrap offers great grip even if you've got sweaty hands.
You can change the weight from the standard 19oz if you like (using McDermott's McGripper tool to remove the bumper), and you get a three year limited warranty which covers manufacturer defects, excluding warpage.
However, the best thing about this cue is its price. Despite being relatively inexpensive, you get the peace of mind of a warranty, plus the build quality that McDermott offers.
This cue also performs pretty well considering how much it costs.
Overall, the L6 is great value for money. If you're a beginner and you're looking for your first stick, pick this up and see what you think.
Pool Cue Buyer's Guide
In this section, we'll discuss what you need to know when buying a new pool cue.
Different types of pool cues
There's three main types of billiard cue:
Playing cues: this is what you'll play your regular shots with. They're designed for control, but also offer good all-round performance – you can generate the power you need to make a long shot and then get back down the table. Generally they come with a softer tip for better control.
Break cues are much stiffer than playing cues and are weighted so you can make powerful breaks more easily. They have a stronger tip and ferrule so that super hard breaks don't damage the cue.
Jump cues are designed to allow you to play legal jump shots much easier. They're shorter than regular cues (usually they split into three and you can take the final third off) and have a light, stiff shaft, allowing you to play with an elevated stick more easily.
Some sticks come as a jump/break cue combo. If you don't want to buy three sticks or have to get a case big enough to put them all in, these multipurpose cues are a great option.
Pool cue material
Most pool cues are made with maple wood, as it's fairly light but quite strong, and won't warp easily. Although natural cues are generally more expensive, they provide a better feel when hitting the ball. Nothing can quite match the classic sound a maple cue makes.
However, some modern cue sticks are made with synthetic composites. A common method manufacturers like to use is taking a wood core and coating it in fiberglass for extra durability. Some are made of graphite, but they tend to be difficult to clean and don't perform incredibly well. Other cues are crafted out of wood but have carbon fiber on the inside for better stability and shock absorption when shooting.
If you can, try out a composite cue and see what you think. With recent advancements in technology, these part-synthetic cues are actually beginning to feel more and more like their traditional counterparts.
Nearly all cues are finished off with a glossy urethane varnish to protect the wood from moisture and to prevent the shaft/butt from chipping.
Different cue sticks for different players
The more seriously you take your pool, the more money you should be looking to spend on a cue stick.
For casual players, or those who play the odd rack at home, a simple playing cue is all you really need. It probably isn't necessary at this stage to have separate sticks for jumping and breaking. Look for something in the $60 to $100 price range.
If you've progressed on to become an intermediate player who enters the odd tournament at the local pool hall, you'll need a better cue (or cues, if you'd prefer a separate breaker/jumper). Look for a two or three piece stick, so you can carry it around easily. Try and find something in the $100 to $250 range (depending on your budget) from a reputable brand like Predator or McDermott. At this stage you can begin to consider looking at synthetic/composite cues, if you like the feel of them.
Serious players and aspiring pros need the best possible cue sticks – including a separate jumper and breaker for optimal performance in tight games. You'll want something that just "feels right" to play with. This means getting a cue that's weight-adjustable, so you can get the stick to play exactly how you like it.
Try and find a cue made in the USA with the best possible craftsmanship – companies like Lucasi Custom produce fantastic quality sticks. You might even consider getting a cue custom-built to your liking.
There's also collectors – but who doesn't love to hoard cues! If you're buying sticks as a hobby, you'll obviously be picking them based on their sentimental value and how they look.
Weight and balancing
Billiard cues come in a number of different weights from 18oz up to 21oz.
In some more expensive cues, you can unscrew the bumper and replace or remove the weight bolts to alter the heaviness of your stick. You'll likely need a screwdriver to remove/add the bolts to the shaft.
If you're buying new bolts, remember to make sure that they're compatible with your cue.
Most players prefer to use 19-20oz cue sticks. But this decision is down to personal preference. In general, the taller you are, the more weight you'll want. This is to ensure you're lining your shots up correctly and not pulling the stick back too far.
Low deflection shafts
Deflection is the change in the direction of the cue ball that occurs as you play English. Hitting the ball off-center will always push the ball away at a slight angle. The bigger this angle, the more deflection the cue has.
For example, if you hit on the left hand side of the center of the cue ball, the ball will "squirt" or deflect away to the right a certain amount. Low deflection shafts aim to reduce the amount of deviation, allowing you to play spin shots more accurately. They make a real difference, so be sure to look out for these cue sticks.
What does "taper" refer to?
Every pool cue tapers to a point – meaning they're wider at the butt and thinner near the tip.
There are two main types of taper:
A pro taper has the same diameter down the length of the shaft. After the joint, it begins to widen, reaching its widest point near the bumper. This design is very common on mid-budget two-piece cues.
Cues with a European taper are more common on single-piece bar cues. From the tip to the bumper the diameter of the cue widens at a consistent rate.
Different types of cue tips
The tip of your pool cue is normally a piece of treated leather that's glued (or sometimes screwed) onto the cue itself. As you use your cue the tip will eventually wear out, meaning you'll need to replace it every year or two.
There's also a few different types of cue tip. Traditional leather ones tend to be softer, meaning they're more forgiving for beginners and easier to control the cue ball with. Pigskin tips are quite similar to cowhide, although they tend to be a bit harder and more durable.
On the other hand, phenolic cue tips are extremely hard, because they're made with a composite of resin and woven cloth. They offer more power and make for easier jumping than leather tips, but were banned for breaking by the Billiards Congress of America (BCA) in 2009. You should check and see whether your local association allows you to use them.
What's a ferrule?
A ferrule is the white piece that wraps around the cue shaft just below the tip of your stick – every pool cue has one.
The ferrule is made with a hard protective material, like resin or plastic. It serves to hold the tip piece in place and protect the cue shaft from splitting from the force of striking the cue ball.
What are the different parts of a pool cue called?
To make the buying process easier, refer to the diagram below. It'll help you understand what the manufacturer is saying when they talk about a "leather wrap" for instance.
One/two/three piece cues
Most cues come in two pieces which screw into each other. This makes them easy to move around and store in a cue case. However, cheaper "house cues" – the sticks you find in bars – don't screw apart.
Performance-wise, two-piece cues tend to play much better than single-piece cues. This is because they're designed for more serious players who are likely to travel to tournaments and therefore need an easily portable cue.
Some advanced-level cues – mostly jump/break cues – come in three pieces. Normally the stick unscrews in the middle, and the butt has a small section which also detaches. This design gives you a bit more freedom to choose how to take your shots. For example, you can add more length to make hard to reach balls or to add more power. You can remove some length for closer shots or short-range jumps.
Pool cue grips
Pool cues come with a number of different grips (often called wraps). You can get:
Plain (no wrap, normal for Sneaky Pete cues).
Leather.
Rubber.
Irish linen.
Nylon.
If you don't like the wrap that comes with your cue, you can install a new one. For rubber, simply slide it down the stick shaft, as shown:
For other grips such as leather, you'll need to cut it to size and glue it onto your cue.
If you get sweaty hands when playing, use a leather, rubber or Irish linen wrap for the best possible grip.
How to store and transport your pool cue
If you're gonna spend $150+ on a shiny new pool cue, it's worth keeping it safe when storing and transporting it.
To do this, you'll need a pool cue case. These products can carry one or more two-piece cue sticks. After unscrewing the butt and the shaft, there's a separate hole for each piece.
Since all pool cues are very nearly the same size, these cases can keep any stick snug and secure in your car as you're traveling to the pool hall. Hard cases work well for long-term storage, ensuring that your cues don't fade or warp due to sunlight or moisture in the surrounding air.
Whatever you do, 
never lean your stick against the table 
unless it's made of graphite. This can lead to it warping or even snapping if it falls over.
Also, avoid exposing your cue to extreme temperatures. Keep it away from your fireplace, for instance.
What should I look for when buying a pool cue?
To find the best possible pool cue, look for the following when buying:
A reputable brand name. McDermott, Lucasi Custom, Predator and Viking are renowned for their craftsmanship.
Two/three piece design – these sticks are generally made for serious players, as they can be transported in a cue case more easily. Therefore, they tend to perform better than single-piece options.
A warranty – if the manufacturer guarantees the quality of the cue, this shows they have confidence it'll perform.
$60 to $500 price tag. Anything under this is most likely an average cue designed for bars or pool halls. You can pay more than $500, but unless you're about to turn pro (or you're a collector) it's probably not worth it.
Good reviews – online shoppers will be sure to let others know if the cue isn't any good.
A quality tip (like Tiger or Le Pro) already installed.
Low deflection shaft.
Conclusion
Congratulations on reaching the end of this mammoth pool cue buyer's guide!
If you're still not sure which cue stick to get, leave a comment below and we'll get right back to you. 🙂
About the author