In this buyer's guide, we'll review the best soccer backpacks and bags for sale as of 2021.
We'll look at soccer backpacks, sackpacks, and duffle bags, including options suitable for both kids and adults.
Contents
Best Soccer Backpacks
First, we'll look at some of the best soccer backpacks on the market for carrying soccer gear. These options are a bit more expensive than basic soccer bags, but are easier to carry and generally have more room.
1. Adidas Stadium II Backpack
Adidas make some of the best soccer cleats out there, and as it turns out, their bags are pretty great too.
This specific soccer backpack is one of the slightly pricier options for sale at the moment, but it's by no means expensive. The amount of storage space in the main compartment is incredible – overall, this bag is great value for money.
The Stadium II comes with a water-resistant phone/wallet pocket, plus what Adidas calls a "hydroshield" base, to keep your soccer equipment nice and dry even when you leave the bag on dew-soaked grass.
As you'd expect, there's a dedicated ball holder, which will fit any size ball – including a size 5 soccer ball. It's basically an expandable mesh pouch, meaning it doesn't take up any extra space if you don't happen to be carrying a ball with you.
There's also a separate area for your cleats, which unfortunately does not come with any sort of external ventilation. This pocket is on the front of the soccer backpack for easy access, but you may need to give it an occasional spray with tea tree oil to keep the smell at bay.
On the plus side though, this soccer backpack is incredibly comfortable to wear. The adjustable shoulder straps are really well-padded, ensuring that they don't dig in if you're carrying a heap of soccer equipment.
Plus, the Stadium II is also very durable – Adidas is renowned for making great-quality sporting goods, and they offer a lifetime warranty with this specific soccer backpack.
2. Under Armour Striker Backpack
The Under Armour Striker is a bigger soccer backpack than the Stadium II we just looked at. As a result, it's a little more trouble to carry around, but you can fit much more stuff in it.
Another benefit of this specific soccer backpack is the pockets on either side, which are big enough to hold both cleats and shin guards, while keeping them separate from your other gear. There's also a dedicated ball pocket on the underside of the bag.
The shoulder straps are fully adjustable, and have a nice ergonomic fit to them. It is worth noting though that the longer design means that the weight is spread out over a slightly larger area. This can make things a bit less comfortable if you're shorter than 5'10", but it's down to personal preference whether or not you'd rather have a slightly shorter soccer backpack.
This bag is also useful for more than just soccer. It comes with a padded inner pocket which would be ideal for a laptop or tablet. So if you're looking to take a ball with you to school as well as your textbooks and computer, this is a fantastic pick.
3. Athletico Youth Soccer Bag
What makes this a "youth" soccer bag?
The only difference between this soccer backpack and other products is its size: it's a bit smaller than most other bags out there. It still has a fantastic amount of space inside the bag though – we'd recommend it for kids up to the age of 16.
Athletico have really tried to make everything as accessible as possible on this soccer backpack. The vented cleat and ball compartments are located on the front of the bag, making them incredibly easy to access. Despite this being a slightly smaller soccer backpack, you could still easily fit a size 5 ball in the ball pocket, or an adult-size pair of cleats in the cleat pocket.
Another great thing about this bag is its price. It's quite cheap, even compared to other youth soccer backpacks. The issue with this however is that durability is compromised somewhat – although you get ripstop nylon, it's used quite sparingly, as the outer is relatively thin. Athletico does promise to refund your money though if you're not completely satisfied with the quality of this soccer backpack.
Despite the price, you still get two water bottle pockets, and the design is quite lightweight. Plus, it comes a few really nice colorways.
Overall, if you're buying for a kid, or are on a budget, this bag is definitely worth looking at.
4. Diadora Squadra II Backpack
If you've got a soccer ball you particularly like, or have spent a lot of money on an official match ball, it's worth ensuring that it doesn't fall out of your bag as you walk. That's why Diadora have included a soccer ball holder with a zipper, as opposed to just going for a mesh pocket. Although this design does make it a little harder to access your ball, the compartment still has excellent ventilation.
You also get a ventilated shoe tunnel, and there's plenty of room internally. There's also a small accessory pocket on the front, which is useful for storing tape, your phone, and other items you need quick access to. Do note though that there are no internal dividers – it has a large main compartment with just a single space.
The Diadora Squadra II is another slightly cheaper soccer backpack, but we can't fault its durability. It comes with 420D nylon, which is fairly water-resistant, and the zippers and seams hold up well, even if you (or your kids) are fairly rough with this soccer backpack.
One slight downside to this bag is the lack of a water bottle pocket. The cleat compartments are quite large (big enough for a shoe and a shin guard each) but wouldn't fit a drink bottle at the same time.
5. DashSport Soccer Backpack
This bag is actually quite similar to the Diadora Squadra II we just reviewed in terms of its design. You get an enclosed soccer ball holder, and a smaller top pocket for snacks and other essentials.
However, unlike Diadora, DashSport provide a double water bottle pocket on the left-hand side of this soccer backpack, making it easy to access your drinks quickly.
The downside to this though is that there are no externally-ventilated pockets that work as cleat compartments. However, you the front pouch is big enough to fit shoes and a ball inside, because this mesh pocket is so big.
Alternatively, you could fit your cleats in one of the internal pockets, if you're prepared to clean the bag every so often to prevent it from developing a smell. There are plenty of internal dividers inside the bag, so you can quite easily keep your shoes separated from your socks, shirt, and jacket.
DashSport are a relatively new provider of sports gear. However, the durability of this soccer backpack is great considering what it costs, and their customer service is top-notch.
Just be aware that although this is supposed to be a kids' bag, it's actually quite big. Young children (under age 8) may have to grow into it a little bit.
6. Adidas Utility Field Backpack
Like the look of the Adidas Stadium II soccer backpack we reviewed earlier, but don't like its price?
This bag from Adidas covers all the essentials, while still providing the fantastic durability you'd expect from the German company. Like all of their other soccer backpacks, the Utility Field comes with their lifetime warranty.
Regarding storage space, the main selling point of this bag is the large ventilated front pocket, which can be closed with a drawstring. It has plenty of room in the ball holder for either a full-size ball and other small items (like a towel/snacks) or soccer cleats and a few larger items like goalkeeper gloves.
Unfortunately, this is the only ventilated side pocket or underside compartment – there is no additional cleat tunnel.
You do get handy side pockets though, as well as Adidas's water-resistant base and padded shoulder straps.
This soccer backpack is definitely on the smaller side, which makes it easier to carry but sacrifices a little bit of storage space. Unless you need to take both a ball and a pair of cleats to the pitch, we think there's plenty of room in this bag.
Best Soccer Bags/Sackpacks
Now we'll review some of the best soccer duffel bags and sackpacks for sale in 2021.
These bags are a fantastic option if you're looking for something to use in conjunction with a soccer backpack, for example when playing soccer after school, or if you have an absolute ton of soccer gear to carry (as a coach for example).
7. Adidas Alliance II Sackpack
The sackpack is a soccer classic. If you've ever needed to carry cleats, shin guards and socks somewhere, and want to keep them separate from your main soccer backpack, these types of bags are the way to go.
Adidas's Alliance II has a nice simple design, making it perfect for carrying just a few pieces of soccer gear. You get a large main compartment, two side pockets for water bottles or cleats, and a handy front zipper pocket for your phone, wallet, keys, or snacks.
As a result of the modest design, this is a very cheap sports bag. Despite this, the durability is great – the Alliance II comes with 600 denier polyester, which is very tough stuff. On the whole though, this sackpack obviously won't feel quite as sturdy as a proper soccer backpack.
Surprisingly, this material is actually quite water resistant. As long as you can avoid moisture entering through the opening in the drawstring, the contents of this sports bag will stay nice and dry in light rain.
8. Under Armour Undeniable 3.0 Duffle Bag
Need a secondary soccer bag with a little more room?
Duffel bags are great for soccer players, but they're especially useful for coaches since they have so much space.
This particular soccer bag from Under Armour has a great deal of room, without feeling like it's too bulky. As well as a spacious main compartment, there's a vented pocket for your cleats, shoes, or socks, and another three external side pockets to keep things handy.
Under Armour sells this soccer bag in four different sizes. We'd recommend the small for most soccer players, as it has enough room for a soccer ball and all your other gear without being too cumbersome to move around. Coaches may want to consider the medium though – especially if you're carrying kits, cones, and training vests.
There is also a massive range of different colors on offer – there's something for everyone, and you should be able to find a style that matches your team jersey.
The handle is nice and soft, and Under Armour's tough outer shell is also water-resistant. Although this isn't exactly a cheap duffel bag, you definitely get what you pay for.
9. SoccerWare Soccer Bag
This bag is essentially a hybrid between a sackpack and a backpack. Although it doesn't come with proper padded shoulder straps, the handles are adjustable, and you could carry this bag over your shoulders if you chose to. It's also an in-between sort of size – not quite big enough to be a soccer backpack, but much larger than your average sackpack. This makes it great for younger kids who still need to carry a large amount of gear.
This soccer bag has plenty of room for a size 5 ball, as well as a pair of cleats, which slot into the mesh side pockets. Unfortunately these mesh pockets do not zip closed, but still keep most cleats in place fairly well.
SoccerWare have really taken the time to get the design right – there are three accessory pockets (two internal and one external) which prove really handy. The price is great, and the material used makes for one of the most water-resistant soccer bags on the market.
On the whole, this is a great soccer bag at a reasonable price. However, it would be much better to have an enclosed area for your cleats. Even though they're unlikely to ever fall out, a zipper closure would provide much greater peace of mind.
Soccer Bag Buyer's Guide
In this part, we'll discuss some key things to consider when picking the perfect bag or backpack as a soccer player.
Bags vs backpacks: what should I get?
Most of the options on the market (even if you search "soccer bags") are actually soccer backpacks. These options generally come with padded shoulder straps, have plenty of room, and are normally quite pdurable. They can be a bit more expensive, but nearly always have dedicated cleat and ball holders.
Soccer bags (sometimes called sackpacks) on the other hand are the smaller varieties with a drawstring closure. They're cheaper and smaller but normally less tough. Most still have dedicated cleat/shoe compartments though.
Essentially, soccer backpacks are the best option as long as you aren't also carrying another bag of some sort. So they make the most sense to take to training or games.
On the other hand, if you're playing soccer after school, and need to take another soccer backpack with textbooks for example, smaller soccer bags are a great option. You can simply put your ball, cleats and clothes in a sackpack to keep them handy.
If you need more room, there is a third option: duffel bags. They can be carried at the same time as soccer backpacks, and have plenty of space. Ensure that the option you go for has a vented compartment for your cleats though.
Essential features: what to look for
Your new soccer bag should have:
A cleat pouch. This is really the most essential feature – the last thing you want is sweaty shoes mixing with everything else in your bag. Good options will have the cleat compartment on the outside of the main compartment, with mesh ventilation. This improves air circulation and prevents the pocket developing a strong smell over time.
A ball holder. Ideally, you want to have the ability to carry a size 5 soccer ball if need be. You need to be careful though to find a bag with a strong ball holder. These compartments can quite easily rip over time if they aren't well-made.
Water bottle pockets. For easy access, it's best to have one or more compartments for a water bottle on the outside of the actual bag. This also prevents your stuff getting wet in case of leaks.
How to assess bag durability
This is the ultimate test of how good a bag really is – how it holds up over time.
The first step in assessing how durable a bag is likely to be is to look at the materials used. Ideally, you want to see the manufacturer mention "ripstop" nylon (which uses a special type of weave to reduce the chances of the fabric tearing) and/or polyester. Both of these synthetics are pretty tough when used in the right thickness.
However, this won't give you any idea how well the zippers and pockets hold up over time. To find out how durable these sorts of features are, check out plenty of reviews of the bag online. If it doesn't hold up all that well, previous buyers will be sure to let you know about it.
You can also look out for reputable brands. Adidas and Nike tend to make quite durable soccer bags, but there are always exceptions to this rule. Be sure to review each bag on its merits.
Also, a warranty is always a good sign, especially if it lasts a year or more. This shows that the seller trusts in the quality of their product.
What makes a comfortable backpack?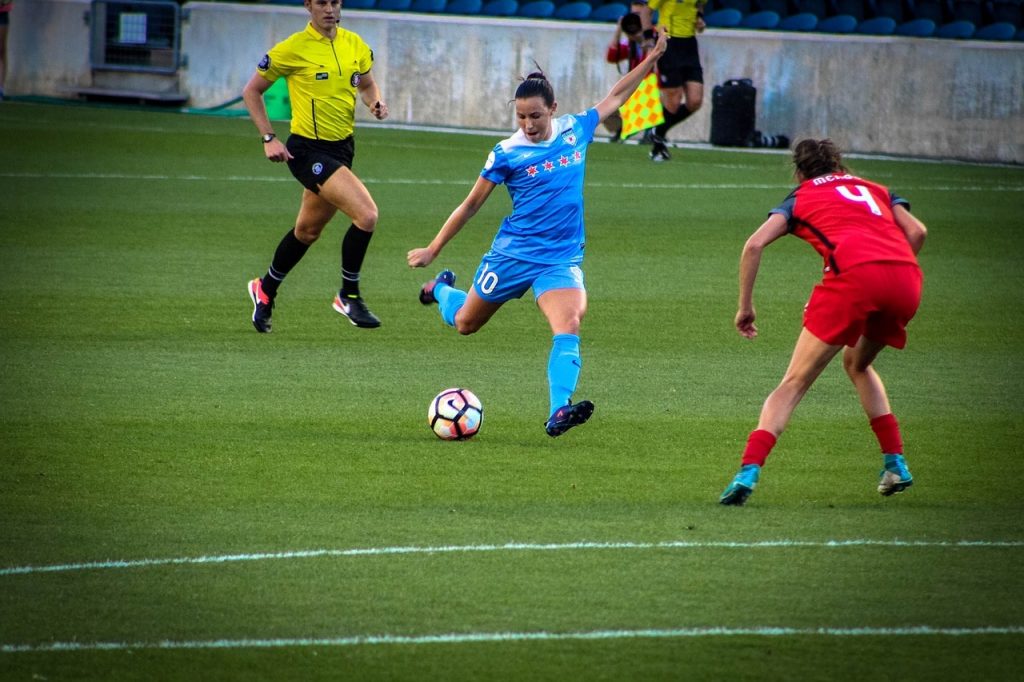 Comfort is a key consideration, especially if you need to carry an absolute heap of gear.
Try to find a soccer backpack with adjustable shoulder straps. This allows you to get the bag in the right position and avoid painful back strains caused by shoulder straps that are the wrong length.
Also, look out for a padded outer back panel – the last thing you want is something pointy (like a ball pump) prodding your back as you walk.
However, if you're getting a smaller soccer bag to carry around separately, comfort isn't such a big deal. Just look for soccer backpacks with a nice handle, especially if you're going down the duffel bag route.
Keeping your gear dry
If you frequently train on damp pitches, or play in rain or snow, but don't have a dugout to put your bag under, you'll need some way of keeping everything dry.
Unfortunately, no soccer bag is 100% waterproof – if you get rained on heavily, chances are your gear will get a little wet at the very least. However, some are better than others.
Some soccer bags come with a waterproof base, helping to prevent damp ground from ruining your day.
Others will have small water-resistant pockets rather than trying to make the whole bag waterproof. These are great to have, as they help to keep your phone and wallet nice and dry.
Conclusion
This is the end of our soccer backpacks buyer's guide!
We hope you found the perfect bag for you or your son/daughter's needs.
Remember, if in doubt, it's always a good idea to look for soccer backpacks with bit more room than you think you need. In general, soccer players begin taking more gear to games over time as they start to take the sport more seriously. For example, elite college-level players may bring two pairs of cleats (one for hard ground and one for soft ground) or two water bottles – one with Gatorade and one with tap water.
This doesn't mean going straight for a duffel bag is necessarily the best idea though!
About the author