In this guide, we've reviewed the best soccer cleats for defenders (including center-backs, fullbacks, and sweepers) in 2020.
We'll also discuss some key things to consider when buying cleats as a defender.
Note: we may receive commission from purchases made on sites we link to.
BEST FOR CENTER BACKS
BEST OVERALL
Nike
Tiempo Legend VII Elite
Nike
Tiempo Legend VII Elite
Best Soccer Cleats For Defenders
Let's begin our reviews!
Here are 6 of the best soccer cleats for defenders, including options for center backs, sweepers, wingbacks, and fullbacks.
The Copa Mundials have been around for literally decades – for very good reason.
While the upper is made of full-grain kangaroo leather, these cleats have a synthetic lining and soft insoles to keep your feet comfortable for the full 90 minutes.
They're a little heavier than some of the more modern cleats made entirely of synthetic materials, but are incredibly durable. This is just what you want as a central defender – a tough but comfortable shoe with an excellent touch, perfect for passing and controlling the ball in tight spots.
However, if you rely on your speed as a defensive winger, you might want something a little lighter.
Ultimately, for central defenders, the only real downside is their price. The Mundials aren't cheap, because they're made of mostly leather.
Pros
Incredibly comfortable.
Leather offers a fantastic touch.
Very durable.
Snug but forgiving fit (due to the leather).
Cons
Slightly heavy – hard to notice on the pitch though.
Adidas' Predator line has long offered precision passing and awesome agility, in large part due to the snug, supportive nature of the shoes.
Because these cleats are made of synthetics instead of leather, the upper is textured and specially patterned for better ball control.
This upper doesn't feel quite as nice as it does on leather options like the Copa Mundial, but it's much easier to keep clean. It's a little thinner than these natural alternatives, which makes for a better feel for the ball, in exchange for a little protection.
Like most top-of-the-line modern cleats, the Predator 19.2 features a snug-fitting sock top that sort of locks your feet in, to prevent the shoes from slipping as you run. This can make putting them on a little difficult, but once they're on, they're on securely.
As a defender, this helps to prevent any annoying distractions in-game. You can tackle and jockey without having to worry about what your cleats are doing.
The Predator design does put more emphasis on being lightweight and flexible than protecting the player, so if you get kicked a lot you might want to consider a sturdier shoe. However, they are very reasonably priced, and Predator cleats have legendary durability.
Pros
Great control.
Reasonable price.
Tough.
Snug, locked-down fit.
Cons
Could offer better protection in tackles.
This cleat is essentially a combination of the Mundials and the Predator 19.2, but made by Nike.
It has a secure, locked-down fit, ensuring your feet don't shift around as you run, as long as you get it in the right size. The fit is quite narrow though.
With regards to how it actually feels, the Legend VII has a supple leather upper, which provides excellent comfort and control.
As a defender myself, the reason we've included so many kangaroo leather cleats in this list is because this material is a fantastic choice for most defenders. It's super comfortable, offers a superb first touch, and feels nice to pass with.
Unlike strikers and midfielders, you don't really need a super-light shoe designed for shooting or sprinting at top speed (although agility can be useful for fullbacks).
However, leather is a bit more expensive, and is banned in California. So it's not for everyone.
But the material isn't the only great thing about the Tiempos. They feature a specially constructed heel to add support and protection, and the ankle stability is fantastic – perfect for sharp turns in 1v1s.
Like most Nike cleats, these are a fantastic option for central defenders. However, they're not cheap, and the outsole can detach over time, especially if you're shooting repeatedly.
Pros
No slippage – perfect fit.
Super comfortable.
Incredibly soft upper.
Flexible but stable design.
Cons
Expensive.
Could be more durable.
As a lightweight cleat optimized for speedsters, the Superfly VI is meant for fullbacks, wingbacks in a 3-5-2, and sweepers who have that need for speed.
However, this cleat takes speed a step further than the Tiempos. It has a unique two-part plate system that allows the full chassis of the shoe to flex with every step, allowing you to gain traction more efficiently.
A one-piece "Flyknit" fabric upper wraps around the entire foot, almost like a second skin. There's a textured heel lining and "dynamic fit" ankle collar, which combine to prevent your foot slipping inside the shoe as you sprint to the ball. This sock-like design does take a bit of getting used to, though.
Although they're really lightweight, these cleats don't sacrifice control to save weight. Their synthetic upper is textured like on most modern cleats, making long balls (and close control) a breeze.
Unisex sizing means the cleats are accessible to everyone – though the price point might be off-putting to some.
Pros
Top-notch traction.
Light, nimble design.
Fantastic control for a synthetic cleat.
Snug fit.
Looking for something a little more reasonably-priced?
Unlike nearly all of the products we've looked at so far, these cleats from Diadora are suitable for athletes with wide feet. They're not quite as snug as the other options (especially the Nike shoes), however the fit is much more forgiving, and they won't slide about if you get the right size.
Another unique thing about these shoes is their breathability – they're designed to let sweat escape. This is perfect for defenders putting in a shift against a tough opposition – the last thing you want is your feet overheating.
However, the single best thing about these cleats for defenders is how agile they are. They're super lightweight, which is perfect for those looking for that extra bit of pace.
Despite this, they're also quite durable. You won't have issues with the upper wearing out, or the toe splitting like you might on some Nike cleats.
Considering what they cost, we're not quite sure how Diadora has achieved this level of durability. But we're not complaining.
Pros
Durable.
Great value for money.
Extremely lightweight.
Surprisingly breathable.
Cons
N/A – great shoes for the price.
You've seen what Adidas, Nike, and Diadora bring to the table. But what does Puma offer in the way of defender cleats?
The Evopower 1.3 is a fantastic all-around option. It's light enough for wide defenders, while still providing the protection and control you need if you're at center back.
It comes with a really flexible rubber outsole, which feels fantastic to run on. The Evopower is a very comfortable shoe to wear over long periods, in large part because the footbed is nice and soft. This is perfect for defenders – center backs are the last players to ever be substituted!
They're quite wide, which is great for those who don't happen to have narrow feet. However, this has affected the fit somewhat – these cleats don't feel super snug for most players.
They are quite reasonably priced though, although they're not the most durable. They won't fall apart, but they can sort of wear out and fade over time.
On the whole, if you're after a reasonably-priced cleat with a wider fit, this is a great choice. We just wish they were a little more snug.
Pros
Supple outer – great touch.
Good price.
Nice and light.
Still offers good support & protection.
Cons
Could be a little tougher.
Fit isn't super-snug for people with narrow feet.
How To Choose Soccer Cleats As A Defender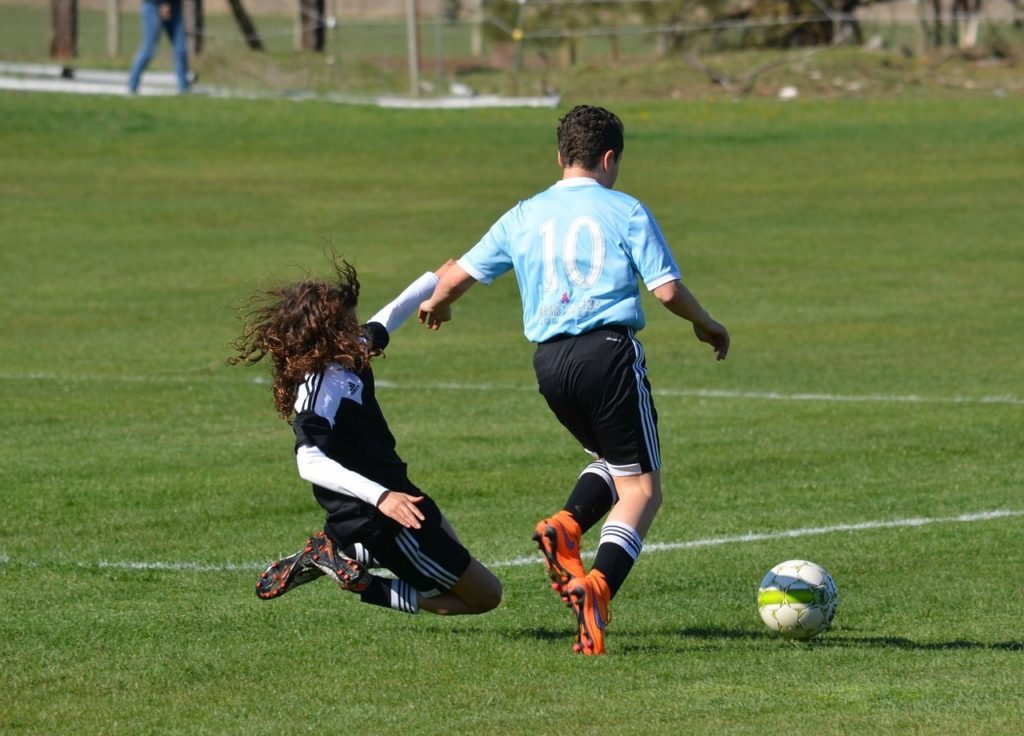 When you're on the pitch facing off against speedy strikers, you don't want to worry about your cleats holding you back.
Ultimately, you want a supportive, comfortable cleat that enables you to play to the best of your ability. Meaning – no distractions.
There are a few things to keep in mind when selecting cleats – whether you're a center back, full-back, or sweeper.
Cleat terminology
Upper, midsole, midfoot – what does all this mean?
As a defender, the upper is probably the most important part of the cleat. This term refers to the outer areas that contact the ball. Basically, the upper is the biggest factor in a) how comfortable the cleats are, and b) how easy it is to control the ball.
Position
Different defenders have different roles. It's important to pick a cleat that meets the need of your position.
Center backs
Center backs are involved in more contact and challenges for the ball than most other players, and need to be excellent in the air. They're also more likely to pass the ball than do too much dribbling (after all, no goalkeeper wants their center backs dribbling across goal).
This means they need cleats that offer more protection and plenty of stability for jumping and landing. Your ideal cleat will have:
A good first touch and control for accurate passing.
A slightly thicker upper for protection during challenges.
A strong heel cup for support when jumping and landing.
Fullbacks/wingbacks
Left backs and right backs play the dual role of defense and offense. You'll be dealing with opposition wingers, while also helping your own winger and delivering the odd cross into the box.
Since they cover so much more ground, fullbacks need shoes that promote speed and agility, which are also incredibly comfortable to run in.
As a wingback, you'll want cleats with:
Flexibility and support for sprinting at top speed.
A textured upper for accurate crosses.
A lightweight chassis for extra agility.
Sweepers
Sweepers are almost extinct in the modern game! But putting a player in this position is still a common tactic in youth and high school leagues.
As a sweeper, your job is to sit behind the back four and collect any through balls that happen to come through.
You're a little bit like a winger who chases after balls in more central areas. However, you don't just want lightweight boots, since you'll still be jumping for headers and tackling nearly as much as your center backs.
For this position, a solid all-around (but still quite light) cleat like the Diadora DD-NA 3 is probably your best bet.
Pitch surface
Ever wondered what those two-letter suffixes mean?
They essentially refer to the type of spikes your cleats come with.
Not all pitches are created equal. Different playing surfaces require different types of cleat design, studs and flexibility.
Importantly, you want the right level of traction for your pitch. There's a balance to achieve here – you don't want the cleats to be too sticky, nor do you want them to just glide over the surface.
Firm-ground (FG)
This is your standard natural playing surface that isn't wet or water-logged – think a normal grass soccer pitch on a sunny day.
Firm-ground cleats are the standard design. Generally, they have molded plastic studs in a conical or chevron (bladed) shape, to help with surface grip. They also often have more cushioned soles to help disperse the impact of running on studs.
Artificial ground (AG)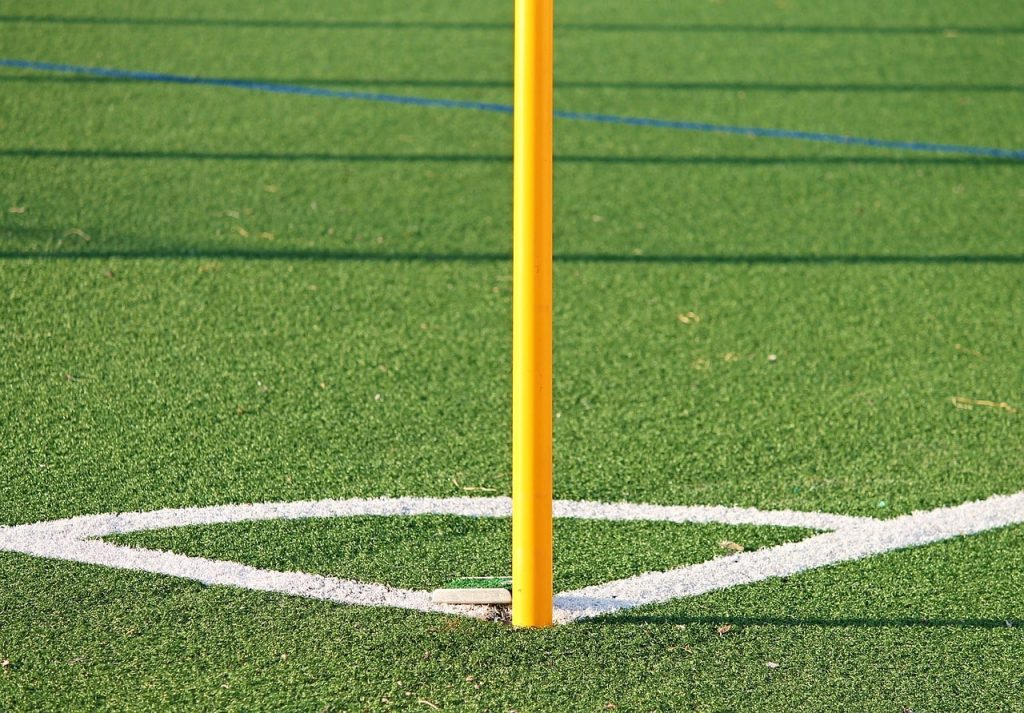 Astroturf is becoming more and more common, and so are AG cleats. While most firm-ground cleats will work just fine on long-blade artificial turf, cleats designed specifically for artificial surfaces may not translate well to natural ground where there is more give.
Therefore, you'd only really ever buy AG cleats if you play on artificial pitches at least 90% of the time.
Artificial-ground cleats, also known as turf cleats, often have shorter bladed studs to provide grip without digging into the turf too much. Note: indoor turf is an entirely different beast, and you should look for flat-sole indoor-specific shoes if you're not playing outside.
Soft ground (SG)
Soft-ground cleats are designed to be used on wet or muddy ground. They often have removable or replaceable spikes, with many lines offering models where metal and plastic studs are interchangeable.
Metal studs allow for greater grip on soft ground and many manufacturers now offer cleats with a combination of metal and plastic studs for even more advanced traction.
However, you have to be careful – some associations, especially youth leagues, do not allow SG studs because they're too dangerous. Since they're often made of metal, they're not very forgiving in tackles.
What should I buy?
99% of the time, cleats with FG studs are the answer.
They're by far the most versatile (and most common) option out there.
Cleat material
Soccer cleats have traditionally been made of kangaroo leather, which is incredibly supple and pliable. Now, synthetic materials are readily available, offering new innovations in cleat construction.
Leather
Kangaroo leather cleats are durable and mold nicely to your feet over time, which is ideal for players with wider feet or those seeking a more forgiving fit.
If done right, they're extremely comfortable and much more controlled than most synthetic cleats, and offer more protection due to their thickness.
Players love leather because it offers a fantastic first touch, and passing feels great.
The downside? It's expensive, it's banned in California (yes, really) and it requires you to take more care of your cleats. You really need to give them a wipe after every match to remove dirt, and ideally give them a polish every so often to keep the leather looking fresh.
Synthetic
Synthetic materials are much lighter, more flexible and more breathable than leather.
These modern options are also thinner, giving you a better feel for the ball, but as a result, they provide less protection. They also dry a lot quicker than leather, which is a big perk when playing on wet surfaces.
As an added bonus, synthetic materials can be easily made to be any color you like, unlike leather cleats, which are normally only available in black.
The verdict
We really like leather cleats for defenders. They're the most comfortable option (especially for those with wide feet) which is crucial considering how much running you'll be doing.
If you can afford them, and don't mind giving them a bit of extra TLC, leather is fantastic, which is why the Copa Mundials are #1 on this list.
However, there's nothing wrong with synthetics – they're very popular for very good reason.
Cleat maintenance for defenders
Believe it or not, it's actually possible to keep each pair of cleats you own for much longer than you would otherwise be able to if you're a defender.
Why? Because shooting is the #1 killer of soccer cleats.
Most of the time, the outsole comes away at the toe, leaving the front of the foot exposed. But unless you're playing long balls every few minutes, this isn't going to happen if you're in defense.
All you need to do to maintain your cleats is give them a good wipe down with a microfiber cloth after each game, especially if they get muddy. This is particularly important for leather cleats – you may want to use leather polish as well to keep the upper looking fresh.
The other thing to consider is your spikes. As a defender, traction is incredibly important. Therefore, to maintain your studs, you should avoid walking on hard surfaces like asphalt with your cleats on. Wear some runners or another pair of shoes and change at the pitch.
Final word
It's quite a shame really that so many soccer cleats are marketed at attackers and midfielders rather than defenders.
What this basically means is you'll have to read more into how the cleat actually plays, and move beyond the slogans the manufacturer uses
While shooting might not be that important, the modern defender must be able to make a great pass.
Ultimately, the most important thing is how comfortable your shoes are. The last thing you want when you're the last man is to be distracted by painful blisters, or any other discomfort.
About the author
Matt is the newest face on the Lift Your Game team.
He's a former college football player, and also played soccer and tennis in high school.
In his spare time, you'll either find him at the gym, or on the couch playing Madden!