Time for some fresh cleats?
In this guide, we've reviewed the 7 best pairs of soccer cleats for strikers in 2022.
We've looked at options for out-and-out strikers, false nines, target forwards, and attacking wingers.
Best soccer cleats for forwards
Let's begin our reviews.
In this section, we've reviewed the 7 best soccer cleats for forwards you can buy in 2022.
The bottom line is this: these cleats are built for speed.
The Superfly 8 are incredibly lightweight, and offer some of the best traction on the market. This is due to a unique two-part plate system that allows the full chassis of the cleat to flex naturally with your foot as you run.
To ensure your foot doesn't slide around during sprints, the cleats have a textured insole lining and "Dynamic Fit" ankle collar. This high-cut design can take a little getting used to, but the stability it provides is really nice to have.
You also get excellent ball control with this cleat. The one-piece "Vaporposite" fabric upper wraps around your entire foot like a sock, which makes it feel like there's almost nothing between your foot and the ball.
The Superfly 8's control and traction don't come cheap though – expect to pay a fair amount for these cleats.
This is basically Adidas's best striker cleat.
The Predator's sock top locks your foot into the shoe, providing a snug fit so your feet won't slip around while you sprint. The synthetic upper has a great stretch to it, further adding to this super-secure fit.
This soft upper is also much lighter and thinner than most leather alternatives, while still being incredibly tough. Although this isn't a cheap cleat, its durability makes it excellent value for money.
Another upside to this thinness is it gives you an unparalleled feel for the ball. The upper has what Adidas calls "Demonskin 2.0" technology, which means it's textured for improved ball control. This helps forwards make a better first touch, and get off more accurate shots in and around the box.
Overall, this is a well-rounded striker's cleat.
Perfect for forwards who take tons of shots, the Phantom Venom Elite is engineered to score goals.
Designed for precision shooting, the shoe has covered laces, which massively increases the size of the strike zone on the top of the upper.
The toe area is textured to provide a better grip on the ball, which is great for strikers who love to dribble. Additionally, the instep has several molded blades designed to create more powerful spin, allowing you to place super-deadly shots.
As you might expect from a brand new Nike cleat, this shoe is expensive. However, you certainly get what you pay for. In addition to being great for shooting, Phantom Venom gives you fantastic traction – which is great for attacking wingers as well as strikers.
The downside to this design is that it does impact durability a little bit. Like most of Nike's ultra-light top-of-the-line cleats, this shoe isn't the toughest option out there.
If you aren't a fan of sock-top cleats, you can get the same features – without the ankle-hugging opening – with these shoes.
Like the high-top version, this variant of the FUTURE Z 1.2 features an upper with thread-through laces, instead of traditional eyelets. This gives a more secure closure and more balanced pressure.
As a result, you get a snug but comfortable fit. This is backed up by the 'FUZIONFIT+' compression band.
Since the shoe is made of mostly mesh, it's ultra-lightweight, making it incredibly fast. The mesh also means you get a great touch and feel, since there's not too much padding between your foot and the ball. It has a synthetic textured instep and toe box for secure ball control.
You do trade durability for this lightweight construction though. The netting can be prone to ripping after a few years of use.
Most of the cleats we've looked at have been quite narrow. If you're looking for something more suitable for wider feet, check out the Copa Mundials.
A full-grain kangaroo leather upper makes these cleats incredibly durable, but there's a synthetic lining to help keep your feet dry throughout the game. Additionally, the cleats feature much softer insoles than most other options, helping prevent blisters and keep you comfortable for the full 90 minutes.
Since they're made of leather, the Mundials are a little expensive, and heavier than most cleats made entirely of synthetic materials, which may slow you down a bit. While this isn't the best thing for strikers, what makes the Mundials great for forwards is the control they give you in front of goal.
Since the leather molds quickly to your feet, you get a soft, reliable touch on the ball, without a lengthy break-in period. This is perfect for dribbling, touching down crosses, playing 1-2s, and best of all – shooting, no matter if you have wide, average, or narrow feet.
Another great leather option for those looking for a fantastic first touch is the Legend 8 Elite from Nike.
This shoe combines the best of both worlds – it has a supple leather upper that molds to your foot (like the Mundials) and a secure, locked-down fit (like the Predators). This combination means your feet won't shift around as you run, and dribbling feels great.
These cleats also provide fantastic stability, perfect for quick cuts in the box, despite the lack of a Dynamic Fit sock.
Like the Mundials, the Legend 8 Elite is a little heavier than most synthetic options. On the plus side though, the shoe has a lightweight but strong outsole, which provides excellent traction at speed. However, with repeated shooting or intense force, the sole can begin to detach over time.
Because of this, if you're a forward that shoots with a lot of power, you might want to consider the Superflys instead.
If you're looking for a reasonably-priced cleat that will hold up through the season and beyond, the Puma ONE 5.2 is a great choice.
It's a comfortable shoe that molds nicely to the shape of your foot, even without the fancy FUZIONFIT+ tech of the FUTURE Z 1.2 or the Copa Mundial's supple kangaroo leather.
Made of a mixture of leather and synthetics, this shoe provides great durability and excellent traction, allowing for surprisingly quick direction changes. A combination of bladed and conical studs grip the ground really well, allowing you to easily change direction to dodge defenders.
The knitted sock extension holds your foot comfortably in place, but isn't quite as high as the Dynamic Fit collar on Nike cleats. It does take a little getting used to, but it's quite a traditional feel overall.
How to choose the best soccer cleats for forwards
Here's everything you need to know when choosing soccer cleats as a forward – no matter whether you play attacking wing, target forward, false nine, or a more traditional striker's role.
Cleat terminology: explained
Here's a handy diagram to show what the different parts of a soccer cleat are called.
For strikers, the upper is incredibly important. This is basically all the material that you will use to control, pass, and shoot the ball. It covers the entire outside of the cleat.
Below, we'll show you what to look out for.
What cleat features do forwards need?
Attacking players have to outwit defenders in 1v1s, distribute the ball effectively to other strikers or midfielders, and ultimately score goals.
Here's what to look for in a soccer cleat as a forward.
Speed
More than anything, attackers need to be fast. They have to beat defenders to the ball and run down through-balls. For greater speed, look for lightweight cleats that allow you that extra edge when sprinting to beat another player.
Acceleration
Having good traction is key to having quick acceleration. This means you need cleats that can grip the ground and allow you to explode out of the blocks, but that aren't so grippy that you struggle to set off.
Power & accuracy
A powerful shot can be the difference between scoring a goal and giving away possession.
Too much padding on a cleat's upper can dampen the force and power of a shot. Therefore, in general, look for cleats with a slightly thinner upper. This is why synthetic options are so popular for forwards.
However, accuracy is also important. Cleats like Nike's Phantom Venom Elite, which have a textured upper, can help make it easier to put swerve on the ball, or shoot a knuckleball.
Ball control
Dribbling past defenders requires excellent ball control, often in very tight spaces.
It's important that your cleats mold to the shape of your feet for a better feel for the ball. Additionally, textured uppers provide better grip, which can make it easier to keep the ball under your control.
Role on the field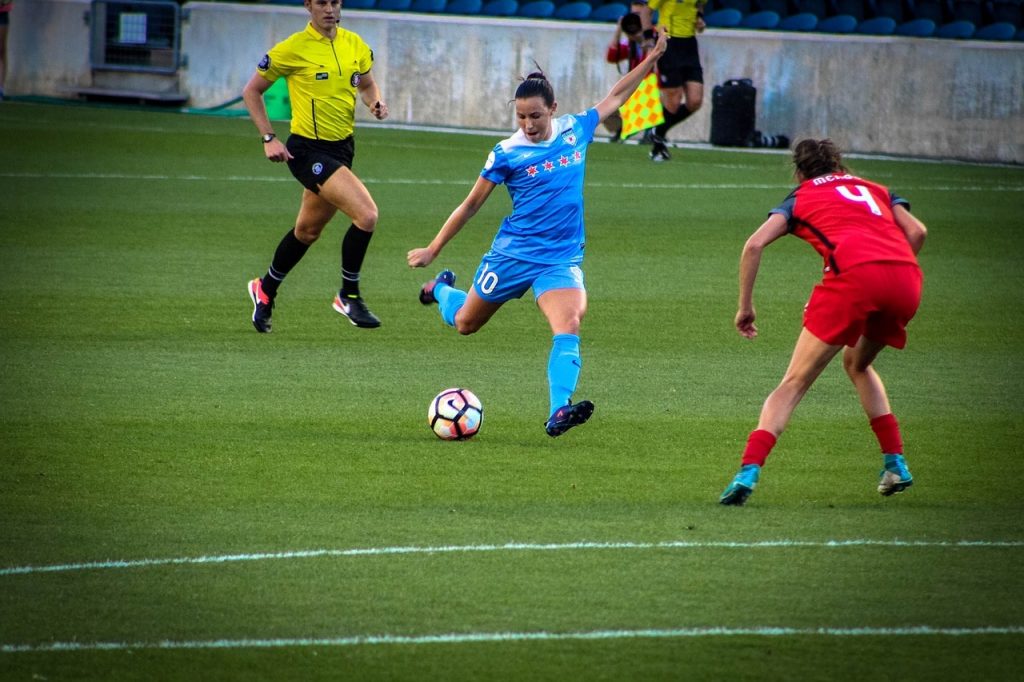 While all attacking players have the same end goal – to put the ball in the back of the net – each individual player has a specific role. This is something to consider when picking cleats.
Traditional strikers
A traditional striker in a front two might have a variety of different roles. You might be more of a target forward, and often score headers. Or, you might be the more agile striker, who often runs with the ball at their feet.
For most traditional forwards playing off the last man, you want a well-rounded cleat with good speed that also offers great control, for receiving passes. And if you tend to take a lot of shots, look for something with a snug fit and a thinner upper.
False nines
These are the players that make things happen. If you sit a little less deep, you'll need to dribble defenders, dodge tackles, set up goal-scoring opportunities and also take accurate shots.
For this, you'll need a cleat that allows for great creativity. Your cleats should give you a great range of motion, as well as a deft, reliable touch. Since you'll have to outwit defenders, you'll also need exceptional traction so you can change directions quickly while maintaining control of the ball.
Look for cleats with flexible sole plates for agility, and sock tops for stability. False nines should definitely consider the Phantom Venom Elite or Nike Tiempo Legend VII.
Target forward
Target forwards have one job: to score goals. They need to be able to outjump center backs for headers, accurately trap long passes, retain possession of the ball, and make great shots.
These players see a lot of aerial battles and action in close quarters, especially for poachers. Therefore, you'll want a cleat that offers great stability when jumping, while also giving you protection from aggressive defenders. You'll also need a shoe with a large strike zone for taking powerful shots.
Laceless cleats or those with covered laces are a great option for target forwards as they'll have a bigger strike surface. It's also a good idea to look for extra heel and ankle support, which are critical when jumping up for headers.
Leather cleats can also be beneficial because of the level of control that they offer. While important, speed and lightweight cleats aren't such a big deal for the target man (or woman).
Attacking wingers
Attacking wingers are lightning-fast, and can pass and shoot with exceptional accuracy. They love to cut in and shoot on their strong foot, especially those with the last name Robben.
As a winger, you need to be able to outrun defenders, sprint onto through balls, and play beautiful passes. In this role, you need a lot of speed and acceleration to make explosive cuts inside. You also need to be able to pass with accuracy.
Since speed is so critical in this role, you'll want to look for cleats made of synthetic materials, as they are much lighter than leather. A textured upper is another great feature, because it helps you pass and trap more accurately.
Check out the Superfly 8 or the FUTURE Z 1.2, which are both incredibly lightweight cleats built specifically for speed.
Conclusion
This is the end of this buyer's guide!
Hopefully you've found some cleats that allow you to do what you do best – score more goals.
Still not sure what to get? Drop us a comment below and we'll get back to you ASAP.