Having the right soccer cleats is incredibly important for midfielders.
In this buyer's guide, we've reviewed the best soccer cleats for midfielders on the market in 2022.
In a rush? Check out our handy table to quickly compare our top picks:
Best Soccer Cleats For Midfielders
Read on to find our in-depth reviews.
We've considered comfort, control, shot power and value in reviewing the best soccer cleats for midfielders on the market in 2022.
If you're willing to pay top dollar for the best possible soccer cleats on the market, the Adidas Predator is a fantastic option. This edition, the Freak.1, has just been released for the new season.
As you'd expect from a top of the range midfielder's cleat, the injection-molded outsole offers great stability but also excellent agility, allowing you to make those sharp turns when dribbling.
However, the centerpiece of this cleat is the knit textile upper material. It offers an almost barefoot feel when playing and an excellent touch on the ball, perfect for controlling lofted passes.
It's also quite comfortable, very durable, and the Demonskin detailing offers a little bit of extra grip when shooting and passing, helping to improve your accuracy.
So, the Predator Freak.1 is a fantastic soccer cleat for shooting and passing, but it also offers excellent agility. Although it's a bit expensive, we think it's worth the price.
Note: Adidas also sell a version of this cleat called the Predator Freak+. It's a more expensive model, featuring a laceless design and slightly different upper material.
Pros
Great for shooting & passing.
Comfortable – super snug.
Awesome feel for the ball.
Good durability.
Cons
Slightly expensive, but we think they're worth it.
Adidas really are the kings of central midfielder cleats. Players such as David Silva, Paul Pogba and Toni Kroos all use their products for the comfort and control they offer.
The Nemeziz 19.3 is awesome because it features all of Adidas's best technology, packed into a single pair of cleats.
You get semicircular spikes which offer good agility, making sharp cuts and turns that little bit easier. For further support when dribbling, these cleats come with Adidas's patented "agility mesh" outer material, which helps to improve your first touch and ball control.
The surface also grips the ball a bit when passing and shooting, making it a breeze to place the ball accurately.
As you'd expect from the Nemeziz line, the 19.3 is very durable – they should last you a whole season at the very least, depending on how often you play.
Plus, they're priced very reasonably, and come in a heap of awesome colorways. You really can't go past the Nemeziz 19.3 as an attacking midfielder or central midfielder.
Pros
Reasonable price.
Great control.
Very stylish.
Light & agile.
Cons
None to mention – awesome all-around cleats.
If Adidas make the best cleats for the central midfielder and defensive midfielder, Nike is the boss when it comes to shoes for wide midfielders.
Ronaldo, Neymar and Hazard all wear Nike for the speed their cleats offer.
So what sets Nike apart from Adidas? The main difference is the shape of their cleats – Nike tends to be a little narrower. They also like to make their cleats as light as possible, and the Phantom Vsn 2 Elite is no exception.
Not only is this cleat super lightweight – it comes with a stud configuration designed specifically for speed. It's very quick off the mark, and has an almost barefoot feel in-game. Plus, the instep is made of a textured Flyknit material, allowing you to get a little bit of extra curve when you cut inside and shoot for the far post.
Nike have made the quite unusual decision to hide the laces on this pair of cleats – they call this a "Ghost" lacing system. They actually sit underneath the little area of fabric where you'd normally expect to see the tongue.
This isn't a completely laceless shoe, meaning you can still adjust its fit as necessary. However, the smooth laces area enables you to strike shots more cleanly, and make a better first touch when receiving and controlling the ball. This is the best of both worlds in our opinion – we love what Nike have done with this design.
If you love to cut inside and take on your man, the Phantom Vsn 2 Elite is a great pick due to the speed, stability and agility it offers.
However, it could be more durable – the sole attachment can come apart from the actual cleat after a season or two, depending on how often you use these cleats.
Pros
Offers excellent speed & stability.
Great for shooting & passing – textured instep.
Hidden laces allow for an excellent first touch.
This cleat is basically a cheaper version of the Phantom Vsn 2 Elite shoe we just reviewed.
If you're not a fan of the dynamic fit collar, this could be the cleat for you.
Like their more expensive version, these cleats are perfect for wingers and wide midfielders due to the speed they offer.
The sole offers great flexibility – allowing for explosive speed off the mark. Nike has also designed the molded studs with quick turns and sprint speed in mind.
However, the Mercurial Vapor 14 Pro is comfortable as well as quick. Nike has lined the boot with a soft textile material, which feels great in-game.
Although this lining does increase the weight slightly, it offers a bit of extra durability and protection against poor tackles. If the wingbacks in your league love to step on your toes, this extra thickness is a godsend!
Pros
Soft inner lining & traditional shape – comfortable.
Great price.
Fast, agile cleats.
Heaps of styles available.
Cons
Slightly heavy for a winger's cleat, but this doesn't make too much difference.
For central midfielders, nothing beats the control offered by the Adidas Copa Mundial line of cleats.
First released in 1979, the Copa is unique in that the upper is made of 100% natural kangaroo leather. This material offers a simply unbeatable feel for the ball, which is why these shoes are the most popular soccer cleats of all time, according to Adidas. The downside to leather though is the fact that it's not quite as durable as other synthetic materials.
However, considering how awesome these boots are to wear, we think it's worth sacrificing a little bit of durability for the extra comfort and control.
To maximize the lifespan of these cleats, Adidas has used synthetic material in crafting the sole, as this is the part of the shoe that suffers the most wear and tear during play. They've also opted to use classic rounded studs which offer excellent traction, while sacrificing a little agility.
Another benefit of these cleats, apart from the control they offer for midfielders, is their fit. The Copa Mundial is super comfortable due to the leather outer and traditional shape. What's more, these cleats are suitable for players with wide feet, because the kangaroo hide has a fair bit of give once you've broken it in.
The only downside is the price – the Copas are pretty expensive due to the cost of importing the leather.
Pros
Incredible control & feel for the ball.
Very comfortable.
Suitable for wide feet.
Good traction.
Cons
Bit expensive.
Leather upper isn't quite as durable as the synthetic alternative.
As well as the Mercurial series, Nike also makes the Phantom line of cleats, which are considered to be a better all-rounder suited to almost all midfielders.
Rather than going for a glossy surface for extra pace, with the Phantom Nike has opted to use a grippy texture on the outer, to give better ball control, as well as offering good breathability.
Combined with the snug, sock-like fit (due to the dynamic fit collar and tongueless design), this cleat offers a barefoot feel which is great for passing and shooting.
However, the Phantom Gt2 Elite isn't just for CAMs. Nike has used a combination of chevron/hexagonal studs for added traction when sprinting.
Off-centre gives a great contact area for the ball and getter control and shooting. Overall, these cleats are very light, and the fabric outer + snug fit means you're unlikely to develop blisters when playing once you've broken them in.
If you're a midfielder looking for an awesome all-round cleat, the Phantom Gt2 Elite is an excellent choice.
The only issue is the price – these cleats are pretty expensive. However, you definitely get what you pay for.
Pros
Excellent all-round attributes.
Snug, breathable – comfortable.
Great shot/pass power.
Awesome agility.
Cons
Expensive, but you get what you pay for.
How To Choose Soccer Cleats As A Midfielder
As a midfielder, you're one of the team's workhorses on the pitch. You have a very important, but very specific job – either linking the defense and the attack, putting in crosses, or threading through balls into the strikers.
Therefore, choosing the right cleats for your position and your individual preferences is crucial. We've outlined some key considerations when buying to help you find the best soccer cleats for your position on the soccer pitch.
Defensive midfielders
Defensive midfielders need strong cleats with excellent traction for running and making those last-ditch sliding tackles.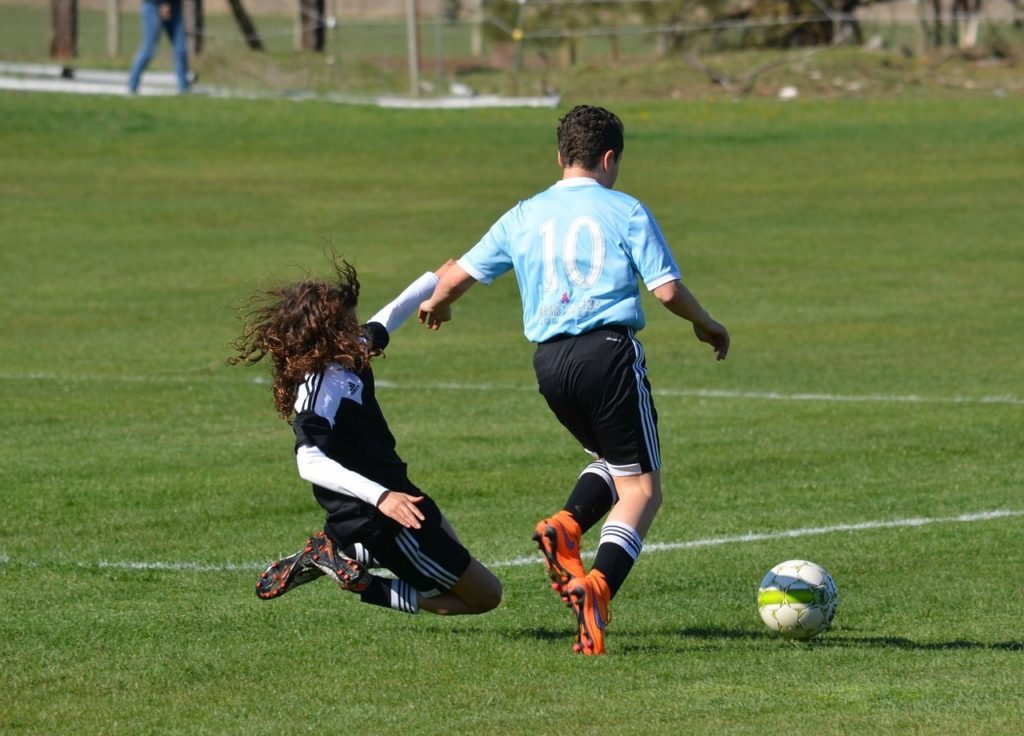 As a defensive midfielder, you also need something with good pass accuracy, as your job is to move the ball forward to the attacking midfielder after taking it from the defenders.
Our pick: Adidas Copa Mundial
Central midfielders
Traditional CMs (like Xavi) and attacking midfielders (like Bruno Fernandes) need cleats that are awesome for shooting and passing. They generally cover a lot of ground during a match, so having a comfortable shoe is also a priority.
Our pick: Adidas Predator Freak.1
Wingers
For wide midfielders, pace is everything. You'll need a fast, lightweight cleat that offers excellent stability when running. Wingers also need breathable cleats to reduce their chances of developing blisters, and the agility offered by the stud layout is also a key consideration.
Our pick: Nike Phantom Vsn 2 Elite
Personal preference
Obviously you might like a specific pair of cleats and decide to use them even though they're not specifically designed for your position.
For example, some CDMs like to use Mercurial Vapor cleats due to the pace they offer when sprinting back into the defense. There's nothing wrong with this – in fact we encourage it. Your confidence and comfort on the pitch is incredibly important.
Consider the following:
Do I prefer the look and feel of Adidas or Nike cleats?
Are my feet especially wide? If so, should I get a more traditional-fitting soccer cleat like the Copa Mundial?
Do I want a Dynamic Fit/Primemesh collar and/or a tongueless design?
Is durability a concern? How often do I want to be buying new cleats?
Do I prefer the feel of kangaroo leather or synthetic material?
How to buy cleats for kids
Is your kid gonna become the next Luka Modric?
Choosing soccer cleats for your child isn't actually that difficult. Just be sure to show him or her a picture of the cleats or get them to try them on in store to make sure they like the look of them – for some kids this is a big deal.
Here's a few more tips:
Get cleats that fit snugly – don't get something they'll have to grow into. Loose cleats can lead to painful blisters and affect your child's ability to pass/shoot the ball accurately.
Prioritise comfort. Children have a lower pain/discomfort threshold than adults – so make sure to get cleats that feel great to wear.
Soccer is all about fun for younger players (especially U10 and younger), so getting the right cleats for your child's specific position isn't incredibly important. Once again, focus on comfort and fit.
Do I need to buy $100+ cleats as a midfielder?
Adidas and Nike's top of the line cleats will set you back $100 or more, but are they really worth it?
The short answer is yes. Expensive cleats are generally more durable, more comfortable, have a better feel for the ball and offer greater shot power. They're also more likely to fit better (the exception to this is wearing Nike cleats on wide feet).
However, costly cleats are by no means essential.
If you tend to wear out your shoes within a season or so – no matter how much they cost – it can be worth going for something cheaper. Also, if you don't like tongueless or collared cleats, there's no problem with picking up a more traditional pair.

Conclusion
There are so many awesome soccer cleats for midfielders available right now – it can be hard to choose what to get! Just remember to think about your role on the pitch, your budget, and how you like your cleats to fit.
Still not sure what to buy? Leave a comment below and we'll get right back to you!