In this piece, we'll show you 10 of the best soccer gifts for players and fans of the Beautiful Game.
Whether you refer to the activity as "football" or "soccer," finding the ideal present for one of the most well-liked sports in the world has never been simpler.
All of the soccer enthusiasts in your life will enjoy a fantastic new gift from you thanks to this list of the finest soccer gifts, which has everything you could possibly need.
We've looked at gift ideas for both kids and adults, including some items that would make perfect Christmas or birthday presents.
Contents
Best Soccer Gifts For Kids
First, we'll show you 5 of the best soccer gifts for children.
Don't skip this section if you're shopping for a grown-up though! A few of these ideas would make the perfect present for an adult too. ☺️

1. GlowCity Light Up LED Soccer Ball
As a kid playing soccer in the yard, I absolutely hated winter. Although you didn't get so many mosquitos (which was nice), the sun came down way too early, forcing me inside a full hour before dinner was ready!
With this product though, poor light isn't a problem. This ball literally glows red, and it's quite bright too, meaning you could continue playing even in the dead of night.
But how does it work? Basically, there are two internal LEDs which are powered by replaceable batteries – a pack is included for easy set-up.
The light is impact-activated, meaning there's no need for a switch on the outside of the ball. It'll stay on while you play and turn off after a few minutes of inactivity.
The battery holes are well-protected with rubber, meaning they don't hurt to kick. You can really thrash this ball without breaking it – it's surprisingly tough.
What's more, this product is very reasonably priced. Kids would love it – and I know more than a few adults who'd really like this ball!
2. AmazonBasics Soccer Goal
Now your kid's got a ball, they'll need a net to shoot it into!
Having a goal in your yard (even a fairly small one) is a fantastic way to keep kids healthy and active.
While most adults play with full size (24′ by 8′) goals, this option from Amazon is available in 12′ by 6′ or 6′ by 4′ varieties.
Depending on which one you go for, you shouldn't have any trouble finding space for it. Just don't put it in front of anything breakable (like windows!).
It doesn't fold down, but it is fairly easy to set up and pack away if you ever want to take it to the park – this goal comes with a handy carry bag. You also get a one-year limited warranty, guaranteeing the quality of the frame and net, as well as ground anchors to keep it in place.

3. SKLZ Star-Kick Soccer Trainer
This is another gift designed for kids which adults would love as well.
Basically, you attach a size 3/4/5 soccer ball to the neoprene holding mechanism, and secure the other end around you waist.
The bungee cord then returns the ball to you after every shot, pass, and header.
Gone are the days of having to find a buddy, or the perfect wall, to play soccer alone. Honestly, if your kid is mad about the sport, this thing could keep them occupied for hours on end.
The cord stretches up to 18′ and is pretty well-elasticated, meaning it can return the ball with decent force if you smash it. It's also very durable (fortunately), as is the waist strap.
However, the cord can get in the way at times, so it's not the best for super-serious training. The Star-Kick is a heap of fun though, which is why we'd recommend it for children especially.
4. Betheaces Hover Soccer
Ever wanted to play large-scale indoor air hockey? No?
For younger kids, having something simple but fun to play with which can be used indoors is never a bad thing.
This device is essentially an enlarged air-hockey puck. Put two batteries in it, turn it on, and it'll glide on basically any indoor surface except high-pile carpet.
Don't worry about it chipping your furniture or skirting boards though – the edge is lined with foam. As a result, little ones can kick it without hurting their feet. It actually rebounds nicely off of hard surfaces, just like a real air hockey puck.
You also get two goals which you can position wherever you want – they're a little flimsy, but are easy enough to set up. Considering what it costs, the overall quality of this set is actually really good.
5. SoccerWave Jr. 2 in 1 Soccer Rebounder
If your kid has already progressed beyond the goal you got for the yard and is now practising on a full-size pitch, getting a rebounder can make it much easier for them to train their volleys and chest control.
These devices are designed to pop the ball up when it's fed to them. Some have a ramp, while others use an angled net – for more details about soccer rebounders check out our buyer's guide.
This particular option from SoccerWave is great in that it has the best of both worlds. The ramp will pop the ball nice and high, while the net side is perfect for 1-2 passes.
It evens fits in your car when folded down, and the net is really tough. However, it definitely requires adult help to assemble – Dad shouldn't have a problem getting it together though.
Best Soccer Gifts For Adults
Now we'll look at some of the best-value soccer-related gifts for adults and teenagers.
6. USMNT Jersey
You can never have too many soccer jerseys!
If you don't know a whole heap about soccer, here's everything you need to understand before buying a kit.
Stick to the current season. Meaning, look for 2021/22 or 2022 where possible. Getting the previous season's kit is a no-no.
Get the kit of your guy's favorite team. If they already have this jersey, you can get the team's away or third strip, (assuming they don't have that as well). Alternatively, get the kit of the national team they support.
Looks matter, but they're secondary to team loyalty. Don't get a kit just because it looks cool – people buy jerseys for the association they have with the team.
Obviously, if you're buying for someone who isn't a USMNT fan, there are plenty of other kits out there to choose from. Dick's Sporting Goods has a decent range of jerseys.
7. Adidas Telstar 18
This is one of the best soccer balls that money can buy.
Most people aren't aware of this, but the balls they use in professional soccer tournaments/leagues aren't the same as the ones you buy at Walmart.
Official match balls are custom-engineered to fly as straight as possible and have a consistent bounce for the duration of the match.
To achieve this, they use thermally-bonded panels (and fewer of them) which, in the case of the Telstar 18, are textured to be more aerodynamic.
Essentially, this ball is expensive because it's actually what the pros used at the most recent FIFA World Cup in Russia.
It makes a fantastic collectible as well as an awesome game ball – these sorts of items can actually appreciate in value over the years if you keep them in the box.
8. KICK Foosball Table
Foosball tables are the perfect addition to the lounge/games room for the soccer-mad family.
This particular table from KICK is designed to cover all the bases – it has everything you need without being too expensive.
It comes with 11 players on each team (you can add more if you want), as well as inclined corners to prevent the ball getting stuck. Each leg is adjustable to ensure you get an even playing field.
With regards to the actual table, the frame is very sturdy, meaning it can be a little tricky to put together.
However, KICK offers an unlimited lifetime warranty, so you can rest assured that the rods and skirts won't break easily. Also, their after-sales support team is extremely helpful.
Of course, there are plenty of other tables on the market, including fancier ones, cheaper tabletop varieties, and bigger/smaller tables. However, this product is a fantastic mid-range option.
9. Trusox Soccer Socks
Soccer socks are just socks, right?
Having the right sock can actually make or break your game. Even with the best soccer cleats, you can still get blisters if your socks suck.
Socks are a bit of a cliche boring gift. But Trusox are different – the lucky recipient of these things will know as soon as they begin playing. So what makes them so special?
You see those black dots? They're rubberized pads. Essentially, they grip the inside of your cleat as you run, preventing super-annoying internal slippage and helping you turn quicker. No more distracting rubbing as you prepare to pass or shoot!
They are a little pricey considering that they're just socks, but they're not that expensive as a gift. Plus, Trusox are incredibly durable – the pads don't come off, and the nylon/cotton/spandex blend holds up well. Pros like Luis Suarez and Arjen Robben use these socks for a reason – they're awesome.
10. C Catapult PLAYR Soccer GPS Tracking Vest
Know a soccer player who's always looking for that extra edge?
This vest has a GPS chip in it, which analyzes your every movement on the pitch.
Using the included SmartCoach app, it'll produce heatmaps, show you your distance travelled, tell you about your sprint speed, and display a heap of other stats.
You can even compare your numbers against other players (as well as professional athletes) and track your performance over the season.
There's a reason you see basically every top-level team using these vests – the information they provide is extremely helpful if you're looking to perform as well as you possibly can.
The downside though is that it's a fairly expensive piece of kit. It can also feel a bit weird to wear at first, but you'll soon get used to it.
How To Buy The Perfect Soccer Gift
If you're still stuck, read on!
What should I get?
Only you can answer this question. ?
It depends what your son/daughter/boyfriend/girlfriend/husband/wife etc likes. Do they play a lot of soccer, or do they mostly support their favorite team by going to games or watching on TV?
If they do play, consider where and how they play. For example, small goals in the yard are great for kids, but unless you're got a massive amount of space, it's not really worth putting in a full-size goal.
Buying cleats
We haven't mentioned any soccer cleats in this guide, because it's very hard to choose shoes for another person. It's not just the size you have to worry about – every soccer cleat is designed for a different type of player. A few have ankle collars for example, which some people like and some people hate.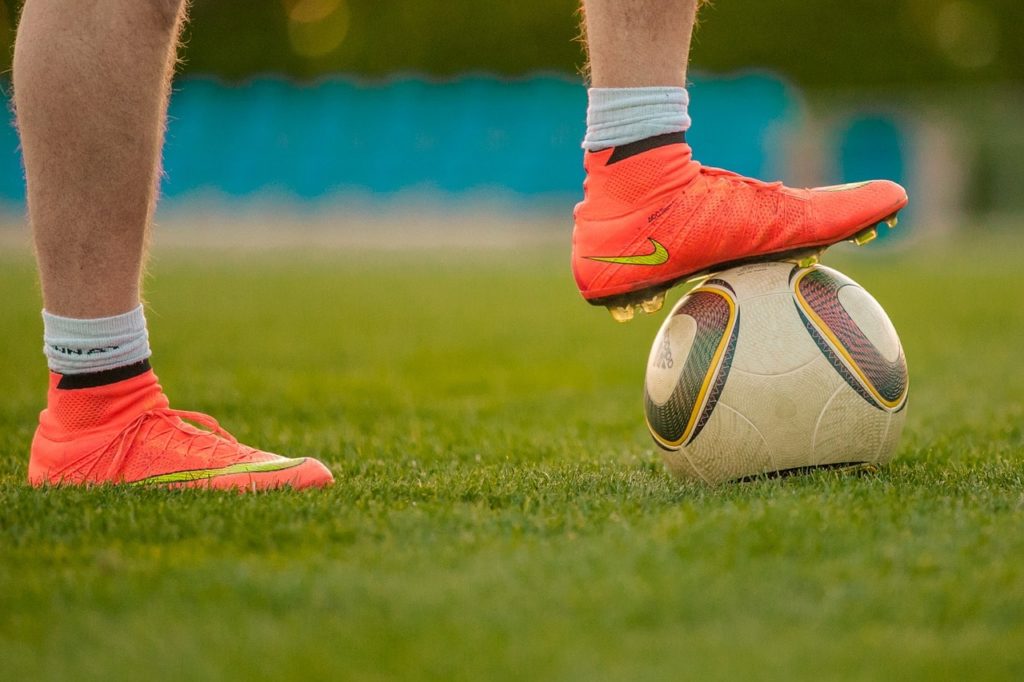 Buying jerseys
Jerseys are a bit easier – you just need to know what team(s) the person supports and what their shirt size is. Like we mentioned above, don't buy kits based on how they look. Find out which team the person supports, and make sure they don't already have what you're buying!
Other ideas
Some stuff we haven't mentioned in this guide which could make good gift ideas:
FIFA 19 – most soccer fans would already have this game though as it comes out every September.
Team merch, like scarves, special training shirts, caps, mugs etc.
An online subscription to watch a specific league in which the person's team plays. For example, NBC Sports will charge you around $50 for a Premier League online streaming season pass, which is a pretty good deal.
Soccer Shorts for the aspiring professional.
Conclusion
You've reached the end of this buyer's guide!
Remember, it's the thought that matters. It can be hard to find the perfect gift, especially if you don't know the sport incredibly well.
If you're still unsure what to get, leave a comment below and we'll get back to you within 12-24 hours.