For soccer-crazy kids, nothing beats having a goal in the backyard.
Whether you're looking for something to use at home, or need some pop-up goals for scrimmage or training, you've come to the right place.
In this buyer's guide, we've reviewed the 9 best portable soccer goals for sale in 2021, including options for the backyard.
Best Soccer Goals For Backyard
Now we'll review 5 of the best soccer goals to use for shooting practice at home.
For the backyard, it's hard to go past Net World Sports' Forza goal.
This thing is incredibly versatile, in that you can get it in pretty much any size you like. It comes in smaller sizes for target practice, as well as much bigger options up to 12′ by 6′. Meaning, this net will work in pretty much any yard – big or small.
You also get nice, thick PVC posts. They're 2.7″ in diameter, meaning they rebound the ball like real goal posts, and hard impacts won't force the goal backwards. The ground pegs are sturdy enough to keep the goal in place on most grass or dirt surfaces, even if faced with extremely hard shots.
The only real issue with this goal is the fact that the crossbar can begin to sag a little bit in the larger sizes. However, it is very easy to put together, and Net World's customer service is typically very helpful if you ever get stuck.
If you need a 12′ by 6′ net but are concerned about crossbar sag on the Net World Sports goal, this net could be just what you need.
For a slightly higher price, you get a steel frame with this goal, which simply isn't going to bend or crack. It's powder-coated and galvanized, meaning it won't rust either. At 50mm (2″) thick, it's also large enough to provide a pretty realistic ball deflection.
Not only is the frame super sturdy, the net itself is also designed to be as durable as possible. It's made of a triple-twisted polyurethane, which is incredibly weather resistant. The net feels similar to fishing line, but isn't quite as harsh. Meaning, it's super tough but still feels like a goal net should.
Vallerta are so confident in the durability of their goal that they offer a one-year warranty against damage.
As we mentioned, this goal is a bit more expensive than most comparable PVC options, and only comes in one size. Getting it ready to go is really easy though – the net ties are adjustable, making it possible to have it up in less than 20 minutes when you first put it together.
Just note though that this goal is a bit heavier than most PVC options out there. This helps to keep it grounded, but makes it a little harder to move around if you plan to take it to the park for example.
This is probably the cheapest soccer goal with a proper frame for sale right now. So how have Amazon managed to cut costs?
Although the frame is made of steel, it's a tube that's only 1.25″ thick. As a result, the net can shift somewhat if the post is hit dead-on with a particularly powerful shot, and the middle of the crossbar can begin to sag over time. However, the metal is powder-coated and isn't exactly brittle – it won't rust or snap when struck.
On receiving this goal, first impressions are that the design is pretty simple. The net attaches to the frame with Velcro straps rather than clips – it's very easy to put up and take down, and there's even a bag to help you move it around if this is something you plan to do. Although these straps aren't incredibly tough, the net does come with a one-year warranty.
The other issue with this net is its weight. Since it's so light, hard shots can dislodge the ground pegs a little bit. However, this design does make it easier to move around.
Overall, this net is a good pick for young kids. It's definitely worth considering if you're on a tight budget or need a portable goal, but there are tougher options out there.
Need something full-size?
If you have a massive yard, or the nearby soccer pitch takes their goals down in the off-season, it can be worth having the ability to practice with a full 24′ by 8′ goal to keep your shooting sharp.
That's what this net from GOLME provides. While it still has tough aluminum posts, you can set it up and take it down in less than 5 minutes, which is great.
If you do plan to use this net in the yard, you probably wouldn't want to leave it out at night, in order to prolong its usable lifespan. But since assembly and disassembly is so easy, this isn't a big deal.
Despite the lightweight design, this net is more than capable of withstanding hard shots from teenagers and adults alike. What's more, with the net pulled taut, there's no crossbar sag, ensuring a realistic experience when training.
Of course, at 24′ by 8′, this goal is a bit more expensive than most other options. However, there is also a cheaper, smaller 18.5′ by 6.5′ net on offer, which works better for youth players. Both goals come with a 30-day return option and a one-year warranty against defects.
Looking for an ultra-tough PVC goal?
If you're a goalkeeper concerned about potential injuries on steel posts (diving and hitting your head for example) or are looking to save a little money without sacrificing durability, this is a great pick.
QuickPlay have used super-strong PVC pipe for the posts and crossbar, and the frame is 2.7″ in diameter. As a result, this goal is reasonably priced but also very sturdy.
The joints are actually designed to flex a little when struck with hard shots, helping to reduce the likelihood of the diagonal supports snapping. QuickPlay are so confident in the quality of their goal that they offer a 2-year warranty – probably the longest guarantee against defects on the market at the moment.
You can even fold this goal flat when you're not using it, and initial set up is fairly simple. There's no need to take it down – the net is completely weatherproof, and the crossbar simply won't sag, even if left out for months at a time.
We can't really fault this net considering what it costs – it has everything you need in a PVC goal, and is available in four different sizes, making it perfect for any backyard.
Best Portable Soccer Goals
In this part, we'll look at some ultra-portable pop-up goals you can use for training or pickup matches.
The last thing you want with a portable goal is the back of the net lifting and letting the ball through when struck with a particularly hard shot.
With this goal, GoSports have you covered. They've included four really thick stakes, which are quite tough despite being made of plastic – you'll probably need a hammer to get them in the ground. There's one stake to secure each post in place, and the remaining two do a good job keeping the back of the net on the ground.
Another good thing about this specific goal is the fact that it comes in three different sizes – 2.5′, 4′, and 6′ wide. Whether you'll be using this goal for peewee practice, or more intense pickup games with older youth players, there's something for everyone.
But how durable is this goal?
Considering the price, it's pretty good – you can expect this net to last at least a few years of consistent use with kids. There are tougher options out there which are probably better choices for adult players though.
However, GoSports do include a lifetime warranty with this net for peace of mind when buying – their customer service is excellent.
No assembly is required – like the name suggests, this goal simply pops up. As an added little bonus, you also get 6 cones for training and a handy carry bag.
For a little extra money, you can get PUGG's goal, which is a little tougher than GoSports' option.
PUGG basically invented the pop-up goal, and have been refining the design for decades now. They're so confident in the durability of their goal that they offer a 2-year warranty against defects in workmanship and materials. This isn't quite as comprehensive as the lifetime warranty GoSports offers, however.
In return for the higher price, this net is made with better-quality materials. The poly netting is incredibly weather-resistant, and you also get a really tough nylon sleeve for the frame. Not only does this help prevent it rusting, it ensures that the crossbar plays consistently for the lifetime of the goal. The last thing you want is this material fraying or developing holes which leave the frame exposed.
Another thing we like about PUGG's goal (apart from the build quality) is the fact that you can choose to just buy one instead of a set of two for a lower price. Meaning, if you're getting a goal for your little one to shoot at in the garden, you don't need to pay for a net you won't be using.
However, if you'll be buying this goal for training, rest easy in the knowledge that the carry bag is also extremely well-made. It's also really easy to get the goal inside – there's a good bit of extra space around the edges of the bag.
Need something that's incredibly easy to put up and take down?
This goal has one of the best pop-up and put-down mechanisms out there. Simply twist it open to begin playing, and flatten it to get it in the included carry bag. No need to press any buttons or twist any knobs to get it folded away, and no need to worry about the goal springing back up at you once it's on the ground.
Apart from its ease of use, the best thing about this goal is the price. It's an incredible deal, especially considering you get two nets (plus a carry bag) with each purchase.
However, this goal doesn't come with a warranty. Although the net is quite strong, the fiberglass frame is a little thin. If you're planning on testing this goal out with hard shots with size 5 soccer balls, or are going to be leaving it outdoors, we'd recommend choosing the PUGG pop-up goal instead.
If you're on a tight budget though, this is by no means a bad goal. It's available in all the standard sizes, and comes with a reflective strip of fabric on the frame for added visibility at night.
This pop-up goal is another slightly cheaper option. However, this net doesn't have any of the durability issues that the Forza Flash does. In fact, it's very durable considering what it costs. Although no explicit warranty is included, Poray's customer service is very helpful.
The mesh actually has a little bit of elasticity to it, which has two really nice benefits. Firstly, it helps to rebound the ball out of the net when struck hard, meaning you don't need to crawl into the goal to retrieve it every time. Secondly, it helps to prevent the net breaking when struck with hard shots, as it flexes back a little rather than remaining static when hit.
Although this net is only available in a 4′ wide variety, it comes with 8 cones, and 6 pegs, which do a good job keeping the goal grounded.
To get Poray's goal up and running once you take it out of the bag, simply unfold it and go.
Overall, this is a fantastic option for those looking for the best-possible value. The only issue with this goal really is the lack of a warranty.
How To Pick The Best Soccer Goal
First, we'll discuss some key things to consider when buying a new soccer goal – whether you're getting a portable pop-up or something more substantial for the backyard.
What type of soccer goal should I buy?
It really depends on what you'll be using the goal for.
Pop-up goals have two main purposes: a). small-sided games and b). training really young kids (under the age of 8). Some organized competitions will actually use these types of goals for their under 6 and under 8 age categories. But serious teams love them for their portability – they're incredibly easy to throw up at training and have a small-sided game to practice short passing, movement, and vision. It's common practice to have each team defend two different goals at opposite ends of their goal line – this prevents goal-hanging.
There are also larger, more substantial goals out there with proper goal posts made of PVC or steel. For kids over the age of 8, these tend to be the better option. Some are reasonably portable, but this is often as a result of more flimsy goal posts. If you need something to put in the yard on a semi-permanent basis, these are what you want.
Essentially, if you're doing anything involving shooting (for example, practicing freekicks or your goalkeeping), you'll need a more substantial goal. But pop-up options are perfectly fine for little ones, or for games at the park.
What size goal should I get?
Again, this depends on what the goal will be used for.
If buying for the backyard, you want the biggest goal that'll fit in the space you have intended for it.
This is because kids grow up quite fast, and as they move into higher age divisions they'll begin using bigger goals. You want your new net to be a long-term investment, especially if you end up spending more than $150.
For reference, a full-sized professional soccer goal is 24 feet long by 8 feet high. Until the age of 12 however, most kids soccer leagues will use a smaller goal, like a 12′ by 6′ variety.
If buying pop-up goals, 4′ wide options are typically your best bet – they're easy enough to score in, but won't take up too much space in your car or truck. 2.5′ and 6′ options also exist, but we think that the traditional 4′ nets are the best pop-up goals out there unless you're in an extremely confined space or need to practice goalkeeping.
What makes for a durable soccer goal?
Soccer nets have quite a few parts that are prone to breaking if designed poorly. It's really important to get something tough.
First of all, you need to ensure that the net itself is incredibly strong. The last thing you want is it rotting and falling apart, especially if you plan to leave your goal outdoors at all times. Look for nets made of synthetic materials like polyurethane – they tend to withstand wind and rain the best.
Secondly, you want the actual clips that attach the net to be super strong. If they snap, they can be incredibly difficult to fix.
Also look for goals with incredibly strong frames – including the supports as well as the posts. Again, if they snap, the goal is pretty much done for. We'll discuss post material in more detail for full-sized goals below, but if you're buying a pop-up net, look for something with a thick steel or fiberglass frame.
Steel vs PVC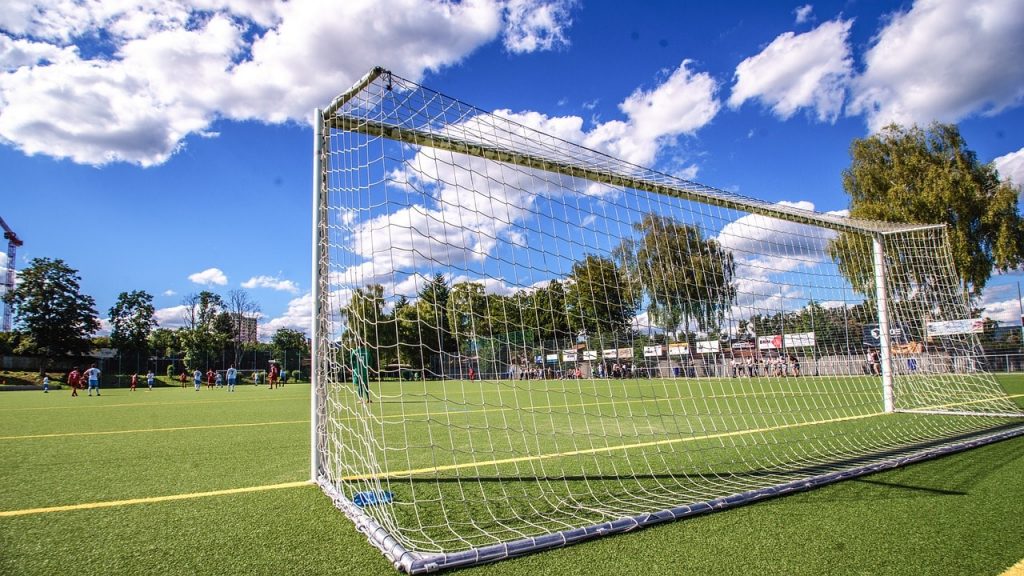 If buying a goal with a proper frame, you essentially have two choices in terms of post and crossbar material.
The most common option is PVC or uPVC (an extra-stiff variant). PVC is an especially strong plastic polymer, often used in drainage due to how tough it is.
PVC is great because it's extremely durable but also quite cheap. Meaning, you'll get a thicker goalpost (2″ or more in diameter) for less cost. You want thick posts – they provide a better ball rebound, and help to ensure that the goal doesn't shift back when hit with hard shots.
However, over time, PVC can result in the dreaded crossbar sag if the crossbar is delivered in two parts.
This is why manufacturers have started to use steel piping for the crossbars and posts on their nets. Metal is more expensive, meaning these posts are often a little thinner. However, they're more durable (provided the steel is galvanized) and won't begin to sag in the middle over time.
PVC is the most common choice for youth players. But if you're buying a wider goal and are concerned about crossbar sag or the supports snapping when faced with hard shots, it's worth investing in a goal with thick crossbars and posts made of rust-resistant steel.
How much should I spend on a soccer goal?
In most instances, it's worth spending more for a really good soccer goal. If you pay a premium for a great-quality net, you should expect it to last for half a decade or even longer.
This doesn't mean you should buy the most expensive goal you can find. It's just worth noting some of the common issues with cheaper goal nets:
They can be quite flimsy, which can result in the goal falling over in high winds.
The crossbar may begin to sag in the middle over time.
The ground pegs may not be strong enough to hold the goal in place when shooting particularly hard.
You may experience signs of wear and tear, like small holes appearing in the net.
The goal may break altogether, due to the net clips snapping for example.
There are good deals to be had in the mid-budget category. However, be sure to check the product's reviews carefully before buying.
Other things to consider
When buying a proper PVC/steel goal, consider how easy it will be to assemble, especially if you'll be taking it down and putting it up quite often. Normally some instructions will be included, but they may not always be helpful – consider what other customers have to say about the assembly process.
For pop-up goals, have a good look at the quality of the bag you'll be getting – nearly all of these types of goals come with something to carry it in. But you don't want a bag that'll fall apart instantly, nor do you want a bag that's difficult to get your goals into. You want it to have an extra two to three inches of space around the edges, so that it's easy to zip up once both goals are in.
If you're concerned about a goal's durability in the face of tough shots, extensive usage or harsh weather conditions, look for a net with a warranty of ideally a year or more. The last thing you want is for something to break the day after the return period ends.
Also look the thickness of the goalposts, especially for proper goals. If they're really thin, this makes it much more likely for the ball to knock the goal back on a direct hit. Proper soccer goals will have a quite thick post. You want the diameter to be at least 2″ for a nice rebound. For pop-up goals, the thickness of the frame isn't so important, as long as it can withstand direct hits from full-size soccer balls without snapping.
Finally, think about how many goals you actually need. Pop-up goals are often sold in packs of two, but you might want four in total if you're playing possession-based games. It's common to get each team to attack two different nets to prevent goal-hanging. PVC/steel goals are normally listed for sale individually, so you'll need to buy two if you're setting up a soccer field in the backyard.
Conclusion
Portability is the number one factor to consider when choosing a new soccer goal net. It's pretty simple – if you need something really portable for small-sided games or practice, grab a few pop-up goals. But if you want something a little bigger for the backyard, you should look for a net with proper posts.
But what if you need a large goal, but also want something portable?
There are bigger options which fold down pretty easily, like the GOLMe Pro. However, these products may cost a little more than your typical PVC goal net.
Still stuck? Shoot us a message or drop a comment below and we'll get right back to you.
About the author