One of the most important items of gear for soccer players, young and old, is a set of shin guards.
It's natural that someone will occasionally get kicked when there are so many feet chasing the same ball.
Below, we've reviewed 5 of the best soccer shin guards on the market in 2022 – for both kids and adults.
No time to waste? Here are our top three picks in every category.
BEST PRICE
Franklin Sports
Superlight
Franklin Sports
Superlight
Best Shin Guards for Soccer
Let's begin our reviews!
Here are the 5 best soccer shinguards you can buy in 2022:
1. Nike Mercurial Lite
The Mercurial Lite from Nike is a two-piece slip-in soccer shin guard. It comes with a hard polypropylene protective shell, which slides into a polyester/Spandex sleeve that is pulled around the shin. This particular shin guard is part of Nike's highly regarded "Lite" family of soccer gear, and is a very popular choice among serious players at most levels of the sport.
Meeting NOCSAE (National Operating Committee on Standards for Athletic Equipment) standards for competitive soccer play, the Mercurial Lite features a very durable inner shell and a breathable, contoured compression sleeve that keeps the guard firmly in place during matches.
The shells are anatomically designed (one specifically for the right and one for the left shin) which provides a super-snug fit. This design also helps to cut down on shell shifting/slippage, but despite the compression, the guards still slide into the sleeves easily. These shells also feature a thick, durable foam inner coating which provides extra protection while also maximizing comfort.
As these shin guards are primarily designed to cover the shin, they provide no real protection for the ankle. Therefore, they are probably not going to be suitable for very young players who might need the added lower leg protection.
Cost-wise, these shin guards are at the higher end of the price spectrum, but you definitely get what you pay for.
Pros
Smart, anatomical design.
Excellent protection.
Extremely durable.
Very comfortable.
Cons
Not recommended for players under the age of 8.
Overall value rating
⭐⭐⭐⭐⭐
2. Adidas X Pro
One of the best-selling soccer shin guards around, the Adidas X Pro is another two-piece slip-in guard that offers excellent shin protection without interfering with your performance on the pitch.
Falling in the upper-middle range when it comes to price, the X Pro is designed to be a form-fitting product that conforms to the contours of the lower leg. This makes for an incredibly comfortable guard – increasing mobility and overall performance while still providing excellent protection in the shin area.
Adidas's shin guard also features a lightweight but sturdy polypropylene front shield and EVA backing material, which provides the covered part of the leg with quite effective cushioning upon impact. This EVA backing is also well-ventilated, allowing air to get to the skin and ensuring you don't overheat too much mid-match.
The Adidas X Pro comes in a number of sizes ranging from XS (for younger children) up to XL (for players 6 feet and over). While normally reasonably accurate, some players have found the sizing chart provided by Adidas to be somewhat iffy, particularly in the larger sizes.
Overall though, if you can find the right size, the X Pro is a comfortable, good quality shin guard that provides excellent lower leg protection.
Pros
Comfortable – fits really nice in the right size.
Very lightweight.
Breathable – well-ventilated.
Cons
Sizing chart isn't completely accurate in larger sizes.
Overall value rating
⭐⭐⭐⭐
3. Vizari Malaga
A relatively new name in the soccer equipment industry, Vizari Sport arrived on the scene in 1998 and has been quickly growing in popularity with their line of high quality but reasonably-priced equipment.
As a single-unit guard in which the shell is attached to the sleeve, the Vizari Malaga provides excellent front protection with its impact resistant, super-durable polypropylene shell. But the guard doesn't feel too hard – it's still incredibly comfortable due to its thick foam backing. The Malaga fastens with a Velcro top strap, and has an ankle sleeve and under-foot strap for increased stability.
Available in a range of different sizes (the smallest is best for very young children just starting out, while the largest is appropriate for players up to about 5' 10" tall), the Vizari Malaga is a particularly popular choice for younger players due to its narrow design and lightweight construction. Depending on the size you pick, it weighs around 3-6 ounces each.
Speaking of youth players, this guard is also a very popular choice with parents, as the price is one of the lowest on the market. Despite its low cost, the Malaga still provides excellent shin and ankle protection and won't wear out for a season at least, making them particularly good value for money.
Pros
Great price.
Super light.
Perfect for narrower legs.
Thick foam – comfortable.
Cons
Isn't really long enough for taller players.
Overall value rating
⭐⭐⭐⭐⭐
4. Adidas Performance Ghost Pro
Another excellent protective product from Adidas, the Ghost Pro is a slip-in guard like the Mercurial Lite and X Pro, again consisting of a compression sleeve and a polypropylene inner shell.
Part of Adidas's popular Ghost Pro collection of protective sports gear, this guard is not exactly cheap, but it's not expensive either. As always with Adidas, the durability is incredible.
As is the case with most other products, the shell utilizes an EVA foam backing for extra cushioning and comfort. Unlike other guards though, the Ghost Pro features an innovative shell design, utilizing three attached shields in one (a main shield at the front with a smaller shield on either side). These three panels/shields then contour to the leg when used with the compression sleeve, providing excellent flexibility as well as extra protection on the sides of the shin.
As is the case with the Mercurial Lite and X Pro, the polyester compression sleeve is designed to fit quite snugly over the shin, which holds the guard securely in place and minimizes shifting during play and practice. Unfortunately though, these shin guards offer no ankle protection.
The only little issue with the Ghost Pro is the fact that they sometimes run a little short in the larger sizes, so it may be worth going a size up, especially as an adult. Other than that, this is a good quality, durable shin guard that will do the job week-in, week-out.
Pros
Three-panel design offers more comprehensive protection.
Form-fitting – comfortable.
Tough.
Simply doesn't shift in-game.
Cons
Runs small in larger sizes.
Overall value rating
⭐⭐⭐⭐⭐
5. Franklin Sports Superlight
The Franklin Sports Superlight is a basic strap-on shin guard that doesn't have a lot of added bells and whistles. However, it delivers solid protection at a very low cost.
Constructed with a heavy-duty plastic front shield, these shin guards feature an ergonomic, symmetrical design that helps them to fit comfortably on the shin. The inside of the shield is made of a soft, high-density foam, which won't wear down easily.
This guard is held in place by two adjustable Velcro straps positioned near the top and bottom of the guard, which helps them fit securely. This design also enables you to put them on and take them off quickly, meaning you could do your pregame warm-up in just socks and cleats if you wanted to.
In part because of its quite basic design, the Superlight (as the name suggests) is a very light shin guard – it weighs less than 8 ounces each (in size large).
Unfortunately, these shin guards are only available in small, medium and large sizes, meaning it's a little harder to find just the right fit. Also, they only come in white with black accents – not a big issue though considering no-one ever sees them,
However, the main issue with the Superlight is its breathability, or lack thereof. They don't ventilate heat incredibly well, and can get quite sweaty.
Pros
Ergonomic, symmetrical design.
Dual adjustable straps.
Padded inner shield.
Excellent value for money.
Cons
Only three sizes available.
Could be better-ventilated.
Overall value rating
⭐⭐⭐⭐
Soccer Shin Guard Buyer's Guide
Now let's take a look at a few things you will want to consider when buying shin guards for soccer.
How do shin guards attach to the leg?
There are three basic types of shin guards for soccer: sleeve-attached, slip-in, and strap-on. What you go for here is basically down to personal preference. Some love the ease-of-use of shin guards that just slip into your socks. On the other hand, other players prefer how these other types of shin guards won't slip down your shin as you play – no need for tape to keep them in place.
You also need to consider whether or not you need a shin guard with ankle protection – slip-in options obviously don't have this capability.
The type of guard you are going to want will depend on the position played, the age of the player, and what the player is most comfortable with. Lower cost front-shield shin guards – basically just curved pieces of plastic designed to slip into soccer socks – are also available. But unless they come with a sleeve, you'll need tape to keep them up.
What's the best shin guard for younger players?
Generally speaking, younger players will need a guard that provides some level of ankle protection, as opposing players (and even their own teammates!) can tread on or kick other players' feet, especially in situations where everyone bunches up. This can lead to serious injury without the right shin guard.
Sleeve-attached shin guards with added ankle protection (which is sometimes removable on higher-end guards) will probably be the best choice here, particularly for very young – grammar school age and under – players.
While ankle guards can affect overall mobility, at this level it's more about the players learning the fundamentals of the game than anything else, and safety should always come first.
Player position and guard weight
Once the player has moved up to more competitive levels, the position he or she plays will help to determine the type (and more specifically, the weight) of shin guard they will need. Regardless of the way they attach to the leg, all types of soccer shin guards will have light, medium, and heavier weight models available.
Defensive players will need the most protection (with the exception of the goalkeeper) and will normally want to choose a heavier guard that offers enhanced ankle protection.
Forwards and midfielders need to be more mobile on the pitch, and so will generally go for a lighter-weight option that will provide less protection but allow for increased mobility.
Goalkeepers will usually want a super light guard, since you're unlikely to be slide-tackled when playing in net.
Shin guard fit
Regardless of guard style and weight, player age or position, in order to provide maximum protection and comfort during play, a shin guard must fit the player properly. A guard that's too big is going to slip around on the leg regardless of how it's attached, while one that is too small will not provide adequate protection and is likely to be very uncomfortable, particularly during extended periods of play.
Unfortunately, as is the case with most pieces of protective athletic equipment, online sizing charts are sometimes inaccurate, and this is especially true for players who are not built in the exact same way most other people are.
Most soccer shin guard sizing charts are based on the player's height, assuming that a player in a predetermined height range will have a correspondingly standard shin length (and sometimes width). If the player has particularly long or short legs or thick calves, you can pretty much throw the charts out the window.
Even if they are planning to buy online, competitive players at any level who will be spending hundreds of game and practice hours in their guards will find it worthwhile to take a trip to their local sporting goods store to look at and (if allowed) try on the guards they are interested in.
It's also usually quite helpful to read the review sections of online vendor web pages, as there are almost always comments – some quite helpful – regarding sizing and fit.
What does NOCSAE approval actually mean?
NOCSAE stands for the National Operating Committee on Standards for Athletic Equipment. This entity is an independent, nonprofit organization that tests most types of athletic equipment – including soccer shin guards – to ensure that certain safety and durability standards are met.
Purchasing a NOCSAE approved shin guard is particularly important for US high school soccer players. All soccer shin guards used in competitive high school soccer play in the United States must be NOCSAE approved.
If you're not a high school player, NOSCAE approval is a nice thing to have, but it's by no means essential.
Is it worth buying a more expensive soccer shin guard?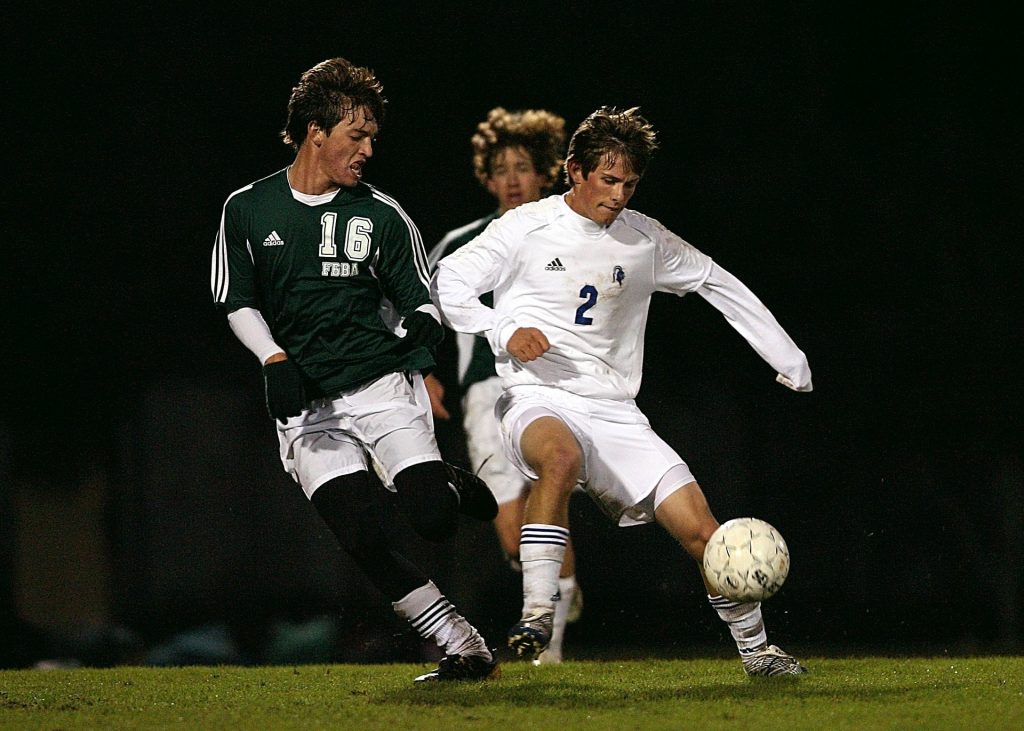 Always keeping in mind the old adage that you get what you pay for, the answer to this question is almost totally dependent on how often the shin guard will be used, the level of competition, the age of the player, and how seriously they play the game.
Generally speaking, the higher the price, the more protection, comfort, and durability the product will provide. Recreational weekend players competing in pick-up games should be able to get away with a basic, low-cost shin guard; as they probably won't spend as much time wearing them. Plus, with their limited use, durability won't be so much of a concern.
Players in organized leagues and other more competitive environments will usually find it worthwhile to invest in a better-quality shin guard that will provide enhanced comfort and protection. In most cases, higher priced models will offer more sizing options, tougher and more comfortable interior padding, and provide shielding for a larger area of the shin.
Remember, if you get the right shin guards, they can literally last your entire career. Mark Schwarzer, former Chelsea FC goalkeeper, used the same shin guards from the age of 19 until his retirement some 20 years later.
Conclusion
As is the case with most wearable athletic equipment, the best soccer shin guard for any individual player is going to be the one that he or she feels most comfortable using, based on how it fits and their style of play.
Hopefully this guide has given you an idea of the most common features available, and what to look for when choosing the right guard for you or your kids. If you have any questions, please feel free to ask in the comments section below.