There are various surfaces used for playing soccer. Because of this, different stud patterns and soleplate constructions are produced by soccer cleat manufacturers based on the type of playing surface.
There are so many soccer cleats out there, and so many different types of cleats, it can be hard to find the right shoes for your specific needs.
Here are all the different types of soccer cleats on the market right now.
Contents
Soccer cleat diagram
First, let's look at a diagram of a soccer cleat. This helps to explain some of the terminology we've used below.
The most important part of this diagram is the upper – the material between your foot and the ball. This is basically what determines how a soccer cleat feels to wear. A thinner, more flexible upper for example offers a better feel for the ball and increased comfort, at the cost of protection and durability.
However, the outsole, and the studs used on it, also play a major role. We'll discuss the different types of studs below:
Soft ground vs firm ground vs artificial ground vs hard ground soccer cleats
Whenever you see suffixes like SG, FG, AG, and HG, just know that it refers to the types of spikes (or studs) installed on the bottom of the cleat.
Soft ground (SG) studs are designed for wet, muddy pitches. They're normally round in shape, longer than normal studs, and made of metal. However, because they're made of metal, they can be quite dangerous in tackles. Therefore, they are banned in most junior leagues. Also note that most SG cleats have interchangeable studs, because the pitch isn't always going to be waterlogged.
Firm ground (FG) studs on the other hand are a much more popular option. They're shorter than SG studs, and are made of hard polymer. They're also less dangerous to opponents, and work on a much broader range of playing surfaces. As long as your pitch isn't a mudbath, or dry as a bone, they'll provide good grip on grass surfaces. FG cleats will also work on most artificial pitches too.
Artificial ground (AG) studs are similar to FG studs, but are a little bit shorter. They're designed specifically for artificial grass surfaces. However, unless you play 90%+ of your games and most of your training sessions on artificial pitches, you're probably better off with FG cleats – they'll work fine on turf.
Hard ground (HG) studs are engineered exclusively for extremely dry grass. They're probably the rarest option to find on mainstream cleats, and are only really suitable for really dusty surfaces. HG studs are made of hard plastic, and are very short, similar to AG spikes. This type of cleat is actually most popular in Japan, where many pitches have a large proportion of dirt/sand – materials that wear down FG spikes quite quickly.
Ultimately, FG studs are the right way to go 9 times out of 10. They're a versatile option for more than just firm ground. But if you often play on really muddy pitches, you might want cleats with interchangeable SG studs.
Attacker vs midfielder vs defender soccer cleats
The truth is, you can use any soccer cleat in any position.
However, companies will try to make cleats targeted at specific positions on the pitch. They might prioritize agility for wingers for example, or include specialized zones for better shooting/passing for attackers and midfielders.
Here are the differences between attacker, midfielder, and defender soccer cleats.
Cleats designed for attackers are often designed with shooting and close control in mind. While the days of the "shooting zone" are long gone, you'll still see striker shoes, like the Hypervenom, with some sort of texturing on the upper to improve the amount of grip you have on the ball as you shoot (designed to help you shoot more accurately).
Midfielder soccer cleats are normally quite similar to those designed for attackers. They'll likely have a textured upper designed to improve your passing and close control. However, they are normally much lighter than most other cleats on the market, in order to improve agility. Midfielder cleats, especially those made for wingers, will often have a special stud pattern for increased grip when making sharp turns.
Soccer cleats designed for defenders are actually quite rare. Most shoes, especially those from Nike and Adidas, are marketed as being able to improve your finishing, pace, and to a lesser extent your first touch. Generally, if you're buying cleats as a defender, you'll want something with excellent traction to prevent slippage, and a comfortable fit/feel to help you maintain your concentration when defending.
Leather vs synthetic soccer cleats
In the olden days, nearly all soccer cleats were made with a leather upper. However, in the last few decades or so, shoes made of synthetics such as polymers have become much more popular.
The difference between leather and synthetic soccer cleats is how they feel when worn. Leather is much more stretchy, meaning it breaks in quite quickly. On the other hand, synthetic cleats are normally tougher, and don't have that soft, supple feel to them.
Of course, there are quite a few different types of synthetics you'll find in a soccer cleat, and each feels slightly different. Because the manufacturer has so many different material combinations available, they can do almost whatever they want with a synthetic shoe. For example, texturing the upper for improved grip – this isn't normally possible with cleats made of natural material.
Also, synthetic soccer shoes are generally easier to clean – you can simply wipe them down. Leather on the other hand normally needs to be treated, and since the surface has more perforations, dirt gets stuck on the upper more easily.
To summarize, leather cleats are the best option if you don't find synthetic shoes very comfortable. If you have wide feet for instance, natural materials are your best bet.
Synthetics are normally cheaper though, so if you don't mind how they feel, or want something ultra-lightweight, they're probably the better choice.
Traditional vs tongueless vs laceless soccer cleats
Tongueless and laceless soccer cleats are a pretty new invention. Although they've been around for more than a decade, they've only really been mainstream since 2016. But how do they work?
Traditional soccer cleats, as the name implies, have a regular tongue and laces. They're straightforward to put on, and are still the most popular option.
Tongueless shoes still have laces, but don't have a tongue. This limits the amount of flexibility you have in choosing how they fit, but can offer a more locked-down feel when compared to traditional soccer cleats.
Laceless soccer shoes don't have a tongue, nor do they have any laces. For those used to traditional cleats, they can seem a little strange to wear. You might struggle to get them on, especially at first, and you can't adjust how tight they fit or anything like that. Some people (including us) aren't big fans of laceless cleats, but if you get the fit right, they can feel pretty nice to wear – almost like a sock or a second skin.
If in doubt, go for a traditional soccer cleat with laces and a tongue. Leading brands still make great-quality cleats in this style – you're not missing anything by not picking tongueless/laceless cleats.
However, if you want an ultra-snug fit, and you're sure that your cleats will fit almost perfectly, then tongueless or laceless soccer shoes are worth considering.
Mid-cut vs low cut soccer cleats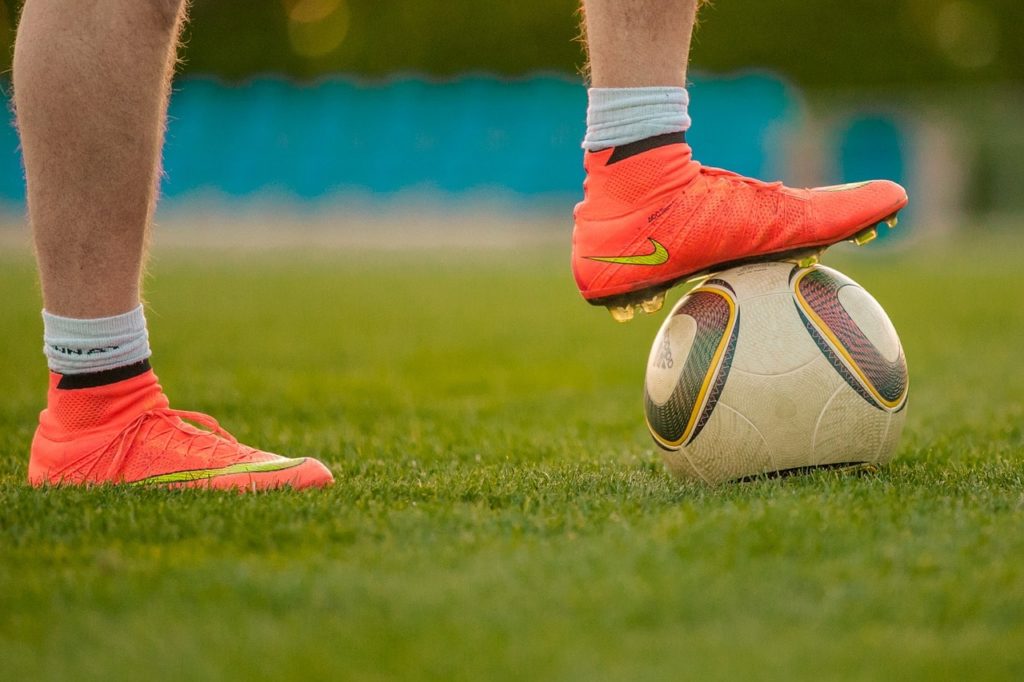 Recently, you might have noticed cleat manufacturers, especially Nike, putting an ankle sock on some of their top-of-the-line soccer cleats.
The difference between mid-cut (sock) and low-cut (traditional) soccer cleats is how they feel. Mid-cut cleats can feel a little more supportive than their low-cut counterparts, because they're taller. This can help a little when cutting and turning.
However, the difference between the two isn't that big of a deal. The ankle collar isn't a revolutionary design feature, but it can be nice to have if you prefer the locked-down feel it offers.
On the other hand, if you prefer the traditional low-cut feel, don't be afraid to just stick to these types of cleats. They're not inherently better than mid-cut varieties – and they're normally cheaper too.
Adidas vs Nike soccer cleats
Adidas and Nike are the kings of the soccer cleat – and have been for the last 20 years, at least.
But are their cleats the exact same? For the most part, no, not really.
The difference between Adidas and Nike soccer cleats is this: Nike prioritize absolute performance, while Adidas prioritize durability and comfort. In general, Adidas cleats last longer, and feel better to wear, while Nike cleats have more innovation – they're normally lighter, more agile, and offer a better first touch.
Remember, there are exceptions to this rule. The best first touch of any soccer cleat is probably the Adidas Copa Mundial – not a Nike cleat. There are also lines of Nike cleats that are exceptionally comfortable, such as the Tiempo Legend.
However, when referring to each brand's newest, most popular lines at least, what we said above generally holds true.
To summarize, if you're after the best-possible durability or comfort (for example, if you have wide feet), Adidas is normally the better option. On the other hand, if you want that extra edge on the pitch – whether it be increased pace, better shooting, or more agility, Nike cleats are generally your best bet.
Conclusion
There are so many different types of soccer cleats for sale, it can be difficult to make sense of everything – especially as a parent.
If you're not sure, here's a quick 3-point checklist you can use to see if a cleat is right for you:
Does it have the right type of studs for the pitches you'll be playing on?
Is it the right material? Do you want leather or a synthetic upper?
Will the cleat work for your position and your individual playstyle?
These are the most important points to consider. But also think about the fit – the cleat must be comfortable to wear. If it isn't, you'll be constantly struggling with blisters, which will significantly impact your ability to play properly.